Tasty Banana and Sesame Pancake Recipe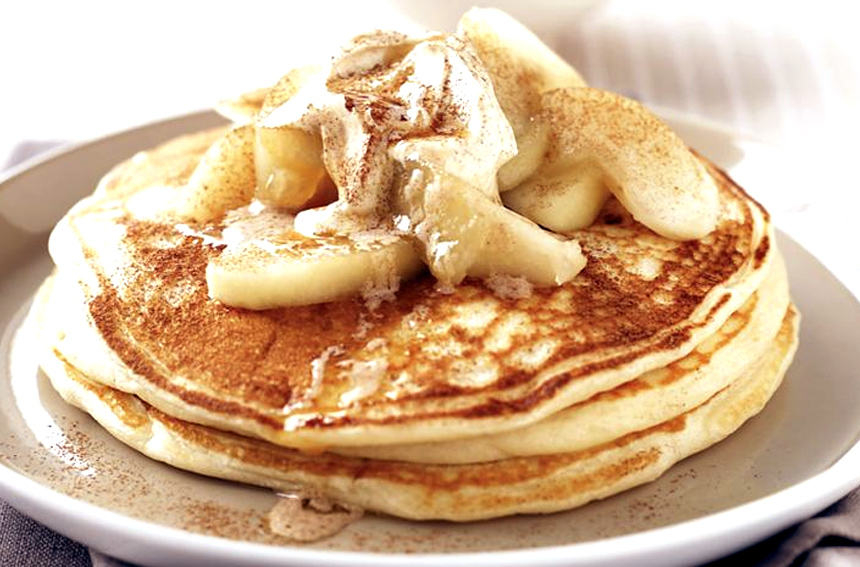 Source: https://www.taste.com.au
Banana and Sesame Pancake Recipe is a filling breakfast recipe that is easy to be prepared even on the busy weekday mornings. Here the pancakes are made with batter the of mashed banana, sesame seeds, and flour. This tempting pancakes are a perfect treat to your kid's and even other family members. Follow this yummy pancake recipe.
Ingredients
For Caramelizing
1/4 cupMashed banana
4 tbspWhole wheat flour (gehun ka atta)
3 tbspPowdered sugar
A pinchof cinnamon (dalchini) powder
Butterfor greasing
To Be Mixed Into A Topping
1 tbspGrated fresh coconut
2 tbspSesame seeds (til)
Directions
In a bowl, grated fresh coconut and sesame and mix it nicely and keep it aside.
In a bowl, add mashed banana, wheat flour, powdered sugar, cinnamon powder, butter and ¼ cup of water and mix it well to make a smooth batter.
Grease a 100 mm. (4") diameter non-stick pan with a little butter, pour ¼ cup of the batter on it and tilt the pan around quickly so that the batter coats the pan evenly.
Sprinkle 1 tbsp of the sesame coconut mixture evenly over it.
Cook the pancake on one side for 1 to 2 minutes, turn it over and cook on another side for 2 minutes.
Once done, place the pancake in a serving plate and serve it hot.
Nutrition Info
Energy: 188 cal
Protein: 3.1 g
Carbohydrates: 28.6 g
Fiber: 2.3 g
Fat: 6.8 g
Cholesterol: 0 mg
Vitamin A: 110.5 mg
Vitamin B1: 0.1 mg
Vitamin B2: 0.1 mg
Vitamin B3: 1 mg
Vitamin C: 1.6 mg
Folic Acid: 4.8 mg
Calcium: 106.6 mg
Iron: 1.4 mg
Magnesium: 0 mg
Phosphorus: 0 mg
Sodium: 32.7 mg
Potassium: 58.4 mg
Zinc: 1.1 mg
This Recipe Rate :
(0) Reviews