Tasty and Tangy Orange Pancake Recipe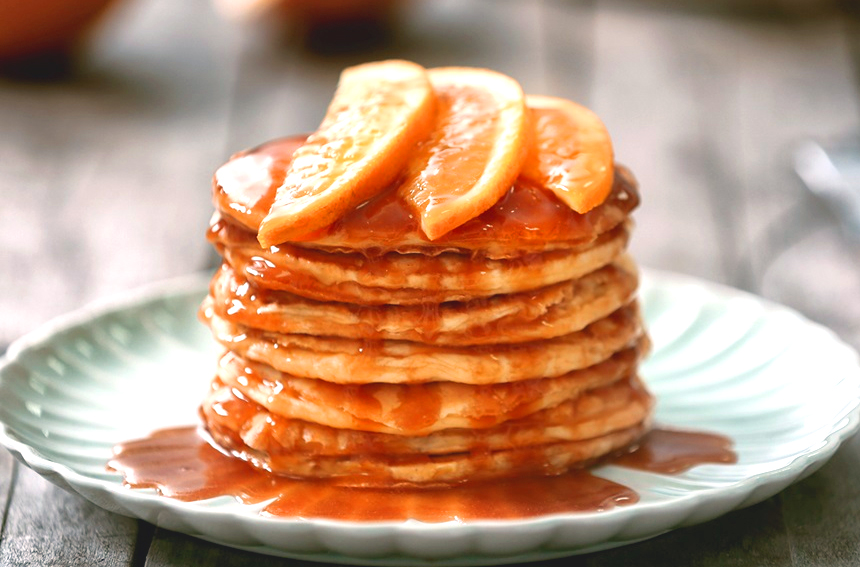 Source: https://www.godairyfree.org
Orange Pancake is a filling breakfast recipe that is easy to be prepared even on the busy weekday mornings. Here the pancakes are made with batter the of orange juice and flour. This tempting pancakes are a perfect treat to your kid's and even other family members. Follow this yummy pancake recipe.
Ingredients
1/2 cupOrange juice
1/2 cupPlain flour (maida)
1/2 cupCornflour
A pinchof salt
Butterfor greasing and cooking
Directions
In a bowl, add orange juice, plain flour, cornflour, salt and ½ cup of water and whisk well to make a smooth batter.
Grease a 100 mm. (4") diameter non-stick pan by using a little butter, pour ¼ cup of the batter on it and tilt the pan around quickly so that the batter coats the pan evenly.
Cook the pancake on each side for 30 seconds approximately by using a little butter.
Place each pancake on a serving plate, fold into a triangle and place a scoop of chocolate ice-cream on each pancake and serve it.
This Recipe Rate :
(0) Reviews