Healthy Oats and Methi Roti Recipe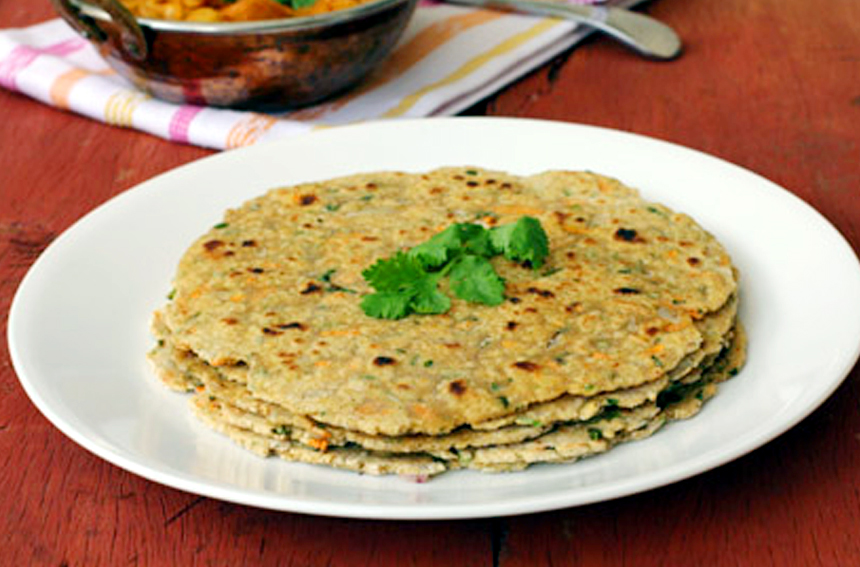 Source: https://www.asianet.in
Oats and Methi Roti are a healthy and comfort food for the entire family. It is the perfect dish to start your day with.This roti can be easily prepared at your home with available ingredients. This dish perfect for a busy day and prefect for your family members. This roti has a nice taste, flavor and texture and also flavorful. Let's follow this tasty roti recipe at your home.
Ingredients
1 cupWhole wheat flour (gehun ka atta)
1/4 cupQuick cooking rolled oats
1/2 cupChopped fenugreek (methi)
1 tspGreen chili paste
Saltto taste
Other Ingredients
Whole WheatFlour (gehun ka atta) for rolling
1 tspOil for cooking
Directions
In a bowl, add wheat flour, oats, chopped methi leaves, green chili paste and salt and mix it well and make a soft smooth dough by using enough water.
Divide the dough into equal portions and roll out each portion of the dough into a 175 mm. (7") diameter circle with the help of a little whole wheat flour.
Heat a non-stick tawa (griddle), slowly place the roti on tawa and brush 1 tsp of oil and cook till light brown spots appear on both the sides of the roti.
Once done, transfer it on a serving plate and serve it with any raita of your choice.
Nutrient values per roti
Energy: 94 k cal
Protein: 3.1 gm
Carbohydrates: 16.5 gm
Fiber: 1.0 gm
Fat: 1.6 gm
Iron: 1.2 mg
This Recipe Rate :
(0) Reviews