South Indian Style Tomato Rice Recipe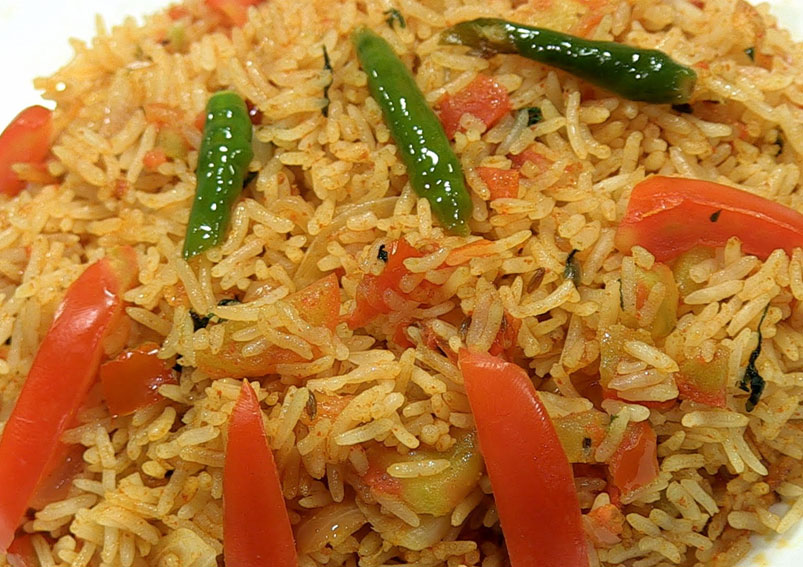 Tomato Rice Recipe step-by-step preparation process will guide you how to prepare the dish. You can prepare it for your picnic and have it along with family members.
Ingredients
1 cupBasmati Rice
2Onions
1 teaspoonGinger garlic paste
4Tomatoes
2Green chilies
¼ teaspoonTurmeric powder
¾ teaspoonChili powder
½ teaspoonGaram masala powder
handfulMint leaves
2 tablespoonsCoriander leaves
Saltto taste
Oilfor frying
1Bay leaf
2Cloves
1Cardamom
1 inchCinnamon
Directions
Soak rice in water for about 20 minutes and drain water completely
Keep it aside. Chop tomatoes and onions lengthwise
Place pan on flame and add oil to it
Add bay leaf, cloves, cinnamon and cardamom to it
Fry them for 30 seconds and then add sliced onions
Saute them till they become golden brown
Add ginger garlic paste and sauté them for few seconds
Then add chopped tomatoes, turmeric powder, chili powder, green chilies, mint leaves, coriander leaves and salt
Cook all the ingredients till tomatoes become mushy
Add drained rice to it and mix well with all the ingredients
Add 2 cups of water to it and transfer the whole mixture in to pressure cooker
Cook for 4 whistles and off the flame
Let the pressure release from the cooker and open the lid once all the pressure is released
Garnish it with coriander leaves and serve it hot to your guests.
Tomato Rice is one among the South India popular recipes with main ingredients as tomatoes. Masala's to the dish gives excellent taste to the rice.
Find Benefits of Tomatoes
-Neelima
This Recipe Rate :
(0) Reviews