Tasty Mango Custard Pudding Recipe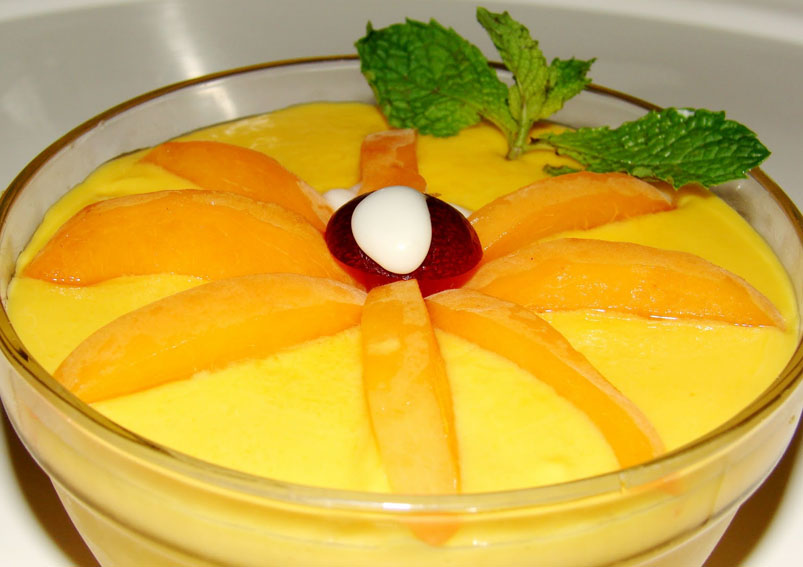 Prepare Mango Custard Sweet at home and have it chilled. Prepare this recipe for on your anniversary and make it special with the Special Recipes.
Ingredients
2 tablespoonsMango custard
1 ¼ cupMilk
¼ cupSugar
2 tablespoonsAgar Agar flakes
½ cupMango Puree
¼ cupWater
Directions
Take a bowl and add custard powder to it
Add ¼ cup of milk to it and mix it well
Sprinkle agar agar flakes in water and keep it aside for 10 minutes
Dissolve the flakes in water by placing it in the microwave for about 4 minutes
Take a sauce pan and heat the rest of the milk
After it boils add sugar, custard powder mixture
Mix them well
Add agar agar mixture to the boiled custard mixture and mix them well till they are combined
Turn off the flame and cool it for some time
Add mango puree to the mixture and mix them well
Transfer the pudding in serving bowls and leave them aside for at least 2 hours
Then garnish it with cherry pieces and serve it to your guest.
You can also dissolve agar agar flakes on the stove using a pan. Instead of mango you can also try any flavor like strawberry, vanilla, etc. As mangoes are the seasonal fruits during summer, try this recipe if your anniversary is during summer.
-Neelima
This Recipe Rate :
(0) Reviews