Crispy Masala Vada Recipe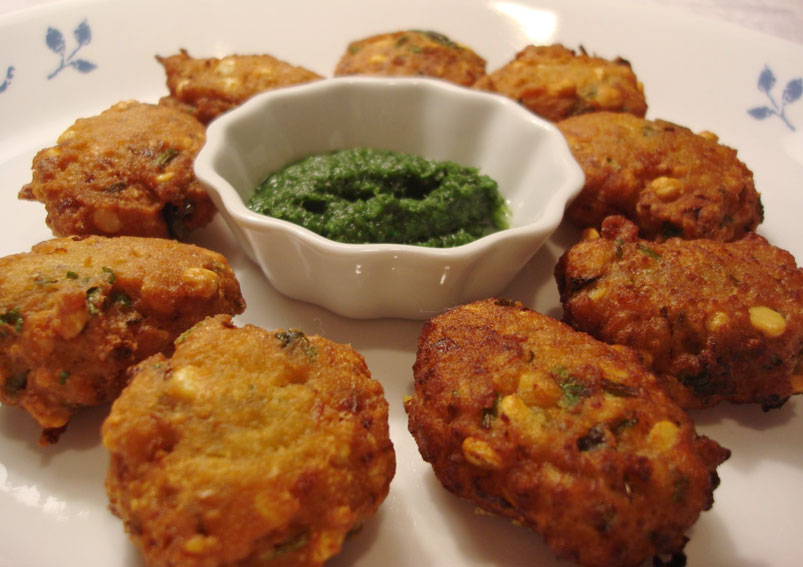 Masal Vadai or Masala Vada is a popular South Indian Snacks that is prepared with chana dal or yellow split peas. Have a look at the recipe.
Ingredients
1 cupBengal gram
½ inchGinger
8 leavesMint leaves
1 teaspoonFennel seeds
Saltto taste
1 tablespoonCoriander leaves
1 ½ cupOnion
10 leavesCurry leaves
1 ½ tablespoonSamolina
1Green chilies
½ teaspoonGarlic
Oilfor frying
Directions
Soak Bengal gram in water for about 2 hours till it softens
Chop the onions into small pieces
Add Bengal gram, curry leaves, fennel seeds, ginger, garlic, green chilies to grinder and grind in to paste
Place the mixture in a bowl and add mint leaves, coriander leaves, onions, semolina and salt
Mix them well and keep it aside
Now place a deep pan on high flame and add oil to it
Heat the oil and reduce the flame once the oil is heat
Take a small portion of the vada mixture in hand and shape them into flat disc
Place them in hot oil and continue the same process with the remaining mixture
Fry the vadas till they become golden brown in color
Remove them from oil place them on an oil absorbent sheet
Once the oil get absorbed, transfer them to a serving plate and serve it hot with

Onion Chutney
Semolina makes vada crispier. You can also flat the vada more if you want to have it crispier.
-Neelima
This Recipe Rate :
(0) Reviews