Ramzan Special Chicken Biryani Recipe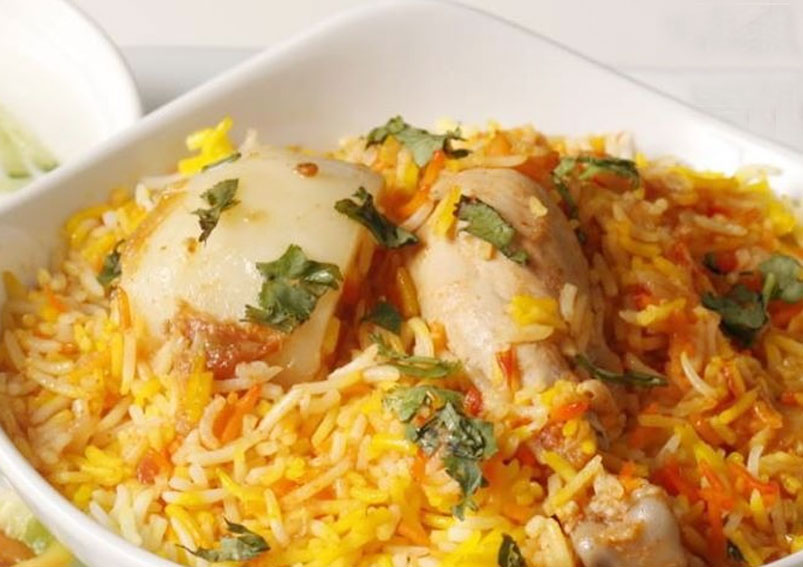 Chicken biryani is specially made during Ramzan time and in Muslim weddings. Muslims are expert in making biryani's. Chicken biryani is a generalized recipe that one can prepare a delicious, flavorful, non-greasy with delicious flavor simple meat biryani. Take a closer look over the Ramzan special Muslim Chicken biryani making process underneath.
Ingredients
2 1/2 cupsRice soaked in water for an half an hour
4Medium (chopped) Onions
2Tomatoes (chopped)
FewGreen Coriander chopped for garnishing
for garnishingBarista (golden fried onion)
Saltaccording to taste
Oilas needed
For marination:
2 lbsChicken
2 cupsYogurt
2 tspTurmeric powder
2 tbspRed chilli powder
2 tbspGaram masala powder
3 tbspGinger garlic paste
2 tspLemon juice
2 tablespoonsPotato (cut into pieces)
1Cumin seeds
2 tspCoriander powder
1 tbspWhole garam masala (a mix of bay leaf, cinnamon, black pepper, green cardamom, black cardamom)
2 tbspButter
Directions
Marinate all the above ingredients for 3-4 hours and refrigerate.
Take oil in a vessel. Add onions and allow it to cook till it turns brown. Add tomatoes and fry until the oil separates.
Add the marinated chicken and cook.
In the meantime, take a vessel with water. Add required salt & 1 tbsp ghee and boil it.
Then add the soaked rice and let it cook. Once cooked, drain all the water.
Now in a vessel or a container, arrange the Biryani with rice layer at the bottom.
Put some barista (golden fried onions) over the rice layer.
Then add a layer of cooked chicken.
Finally, add another rice layer over the chicken.
Garnish with barista and chopped green coriander leaves.
The cooked meat chicken biryani is ready to serve.
This chicken biryani is fantastic with a cucumber raita and a squeeze of lemon. The ingredient and the list above might look big, but there's nothing to be exotic and it all comes together in about an hour.
[Check more Ramadan Special Recipes]
-Mayuka
This Recipe Rate :
(0) Reviews