Barley And Raw Veg Salad Recipe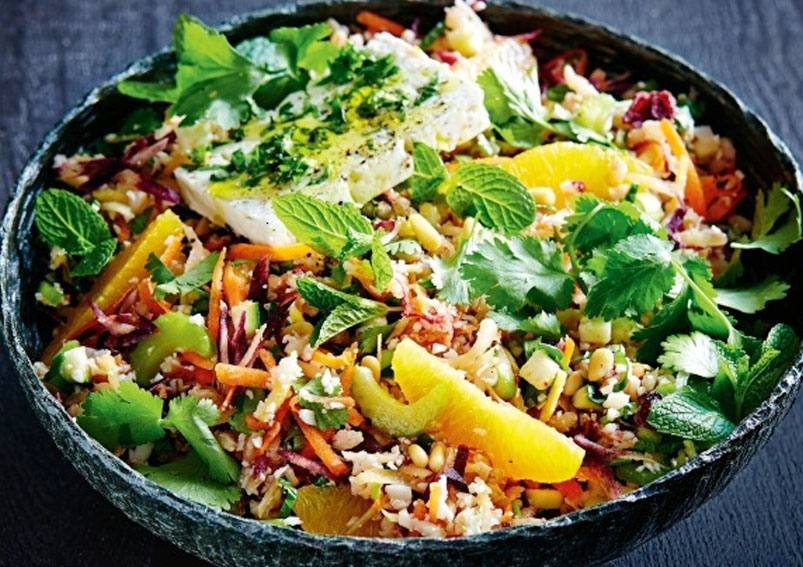 This is a good nutritious food with a new combination of barley and raw vegetables. Barley is a very good source of vitamin B1, fiber, magnesium and many more benefits.
Look for delicious salad recipe mixed with different vegetables and barley.
Ingredients
150g (2/3 cup)Pearl barley
2Oranges (peeled)
1 cuplemon (juiced)
1 tspVirgin olive oil
2 tspMaple syrup
250gCauliflower florets
1Zucchini (finely chopped)
2Celery sticks
2Green Shallots (thinly sliced)
280gMixed carrots, peeled, coarsely grated
50g (1/3 cup)Dried cranberries
1/2 cupFresh mint (chopped)
1/2 cupFresh coriander leaves (chopped)
2 tspToasted pine nuts
For garnishing:
1tbsExtra virgin olive oil
1/2 cupFresh mint
1/2 cupCoriander leaves
Directions
Place barley in a pan and cover with cold water.
Boil it on high flamet. After some time reduce the heat.
Simmer for 30-35 minutes till it gets tender.
Rinse in cold water and dry in a paper towel and place in a bowl.
In a bowl mix the juices of orange, lemon, oil and maple syrup in a bowl.
Add chopped cauliflower and zucchini in juice mixture.
To develop the flavor, set aside for 5 minutes.
Add lemon rind, celery, orange segments, shallot, carrot, zucchini, cranberry mixture and 3/4 of the herbs to the barley.
Lightly mix all the mixture in a blow and put some pine nuts.
Finally, Top with Sprinkle with remaining herbs.
Drizzle with extra oil and sprinkle with extra herbs for garnishing.
Raw vegetables is good for health. So, enjoy the raw veg salad with the combination of Barley and garnished with mint and coriander leaves.
Check For more salads.
- Mayuka
This Recipe Rate :
(0) Reviews