Gluten Free Green Pea Paratha Recipe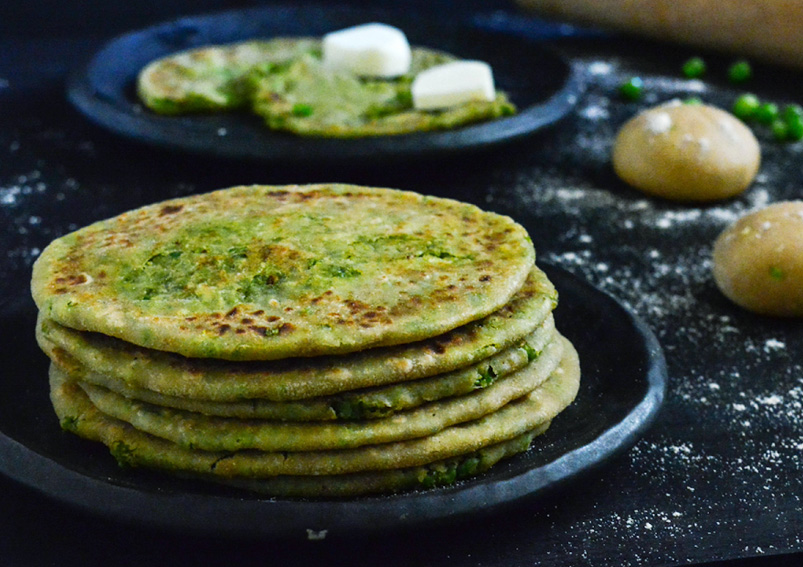 Source: www.cookingisfunn.blogspot.com
Want to try a healthy gluten free paratha recipe? Then try this Gluten Free Green Pea Paratha recipe which is more healthy and nutritious. This healthy paratha is made with jowar flour and rice flour. This dish can be easily prepared at your home with easily available ingredients. It has a nice nutty flavor of jowar and also has the sweet taste of pea. This is a healthy and a perfect breakfast dish for your family.
Ingredients
1/2 cuprice flour (chawal ka atta)
1/2 cupjowar (white millet) flour
1/2 cupboiled and crushed

green peas

2 tbspfinely chopped coriander (dhania)
1 tspcumin seeds (jeera)
1/2 tspfinely chopped green chilies
saltto taste
1 tbspoil
rice flour(chawal ka atta) for rolling
oilfor cooking
Directions
In a bowl, add rice flour, jowar flour, boiled green pea, chopped coriander, cumin seeds, chopped chilies, salt, oil, and enough water and mix it nicely.
Divide the dough into equal portions and roll out each portion into a circle of 125 mm (5") diameter by using a little rice flour.
Heat non-stick tawa (griddle) and cook each paratha by using a little oil and cook till they turn golden brown in color from both sides.
Serve it with any raita of your choice.
Nutrient values per paratha
Energy 124 cal
Protein 2.5 g
Carbohydrates 16.7 g
Fiber 2.3 g
Fat 5.2 g
Cholesterol 0 mg
Vitamin A 127.7 mg
Vitamin B1 0 mg
Vitamin B2 0 mg
Vitamin B3 0.5 mg
Vitamin C 2.4 mg
Folic Acid 3.6 mg
Calcium 7.3 mg
Iron 0.6 mg
Magnesium 0 mg
Phosphorus 0 mg
Sodium 2.1 mg
Potassium 22.5 mg
Zinc 0.3 mg
Meghna Nath
This Recipe Rate :
(0) Reviews