KFC Veg Rice Bowl Recipe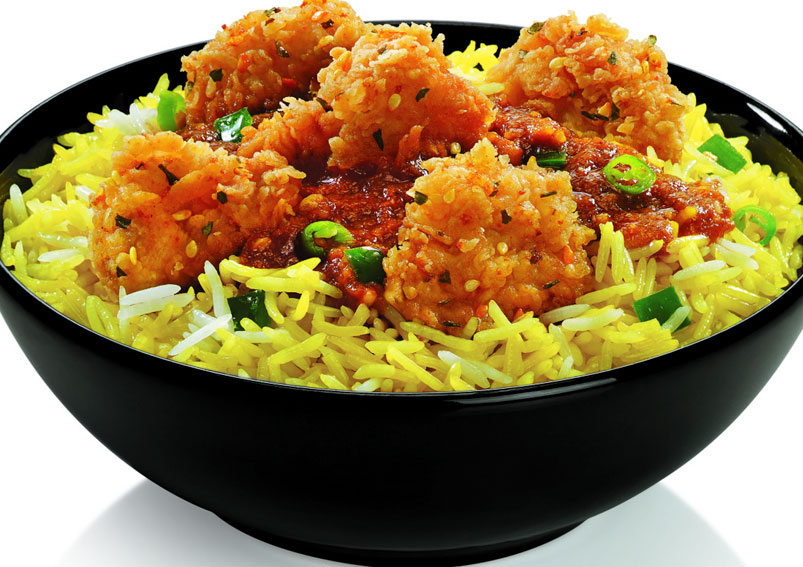 KFC veg Rice Bowl is a complete meal in a bowl filled with aromatic Basmati rice, flavorful gravy, and some crunchy veg strips. Now you can make this Rice Bowl recipe at home. Let's have a look how to prepare this recipe.
Ingredients
For Khandvi
1 cupBasmati Rice
1 mediumOnion
2Tomatoes
2Green Chilies
4pods of Garlic
1 inchGinger
1Clove
2-3Black Peppercorns
1/2 teaspoonRed Chili Powder
1 teaspoonTurmeric Powder
1 teaspoonCoriander Powder
1/4 teaspoonGaram Masala Powder
FewCoriander leaves, chopped
2 tablespoonsCooking Oil
3 cupsWater
Saltto taste
Veg strips
4 mediumPotatoes (boiled and mashed)
2 tablespoonCarrot, (peeled and finely chopped)
2 tablespoonSweet Corns
2Breadcrumbs
2Green Chilies, finely chopped
1/2 teaspoonRed Chili Powder
1/2 teaspoonTurmeric Powder
1 teaspoonCoriander Leaves, finely chopped
1 tablespoonCornflour
1 tablespoonMaida (all-purpose flour)
Saltto taste
Oilfor deep frying
Directions
For Making the Rice
Boil the rice in the water by adding 1/2 teaspoon of turmeric powder and salt to taste.
Drain out the water from the rice and keep it aside.
Slice the onion and chop the tomatoes.
Blend the tomatoes, ginger, garlic and green chilies in a mixer grinder.
For Making The Gravy
Heat oil in a pan, and stir fry the sliced onion.
Take out the onion from the pan and allow it to cool down. When the onion completely cools down, add this into the blended paste (tomatoes, ginger, garlic and green chilies and make a fine puree out of it.
Heat a pan and add clove and peppercorns and gradually mix prepared puree in it.
Add salt and cover the pan, leave to cook on a low flame for about 5-6 minutes, till the gravy thickens and a nice color comes out from it.
Stir in red chili powder, turmeric powder, garam masala powder, and some chopped coriander leaves.
Divide the cooked rice in 2 portions and mix half of the cooked rice into gravy. Keep the remaining rice aside, as they will be used for further serving.
For Making Veg Strips
Boil the corns and carrot and put it aside.
Take 2 bread slices and grind for making perfect bread crumbs.
Mash the boiled potatoes in a bowl, add 2 tbsp breadcrumbs and spices in it.
Add boiled corns, carrot and chopped coriander leaves.
Mix the cornflour and maida in a separate bowl, add about 1/2 cup of water and make a lump free batter.
Use rest of the bread crumbs for coating.
Now mix the potato mixture very well with your hands and start making oval shaped strips.
Dip the veg strips in the prepared flour batter and coat from all the sides with remaining breadcrumbs.
Put the strips in the refrigerator for a 30 minutes and then remove it from the refrigerator.
Deep fry the strips in a good amount of hot oil on a medium flame, fry till it turns crispy and little browned.
For assembling Veg Rice Bowl
Take a serving bowl, fill it half with the rice mixture and gravy and another half with plain rice,
Pour the bowl onto a serving plate, upside down.
Top with veg strips and serve it.
Also, Read Best Indian Aloo Chatpata Recipe
Meghna Nath
This Recipe Rate :
(0) Reviews