Homemade Brown Bread Recipe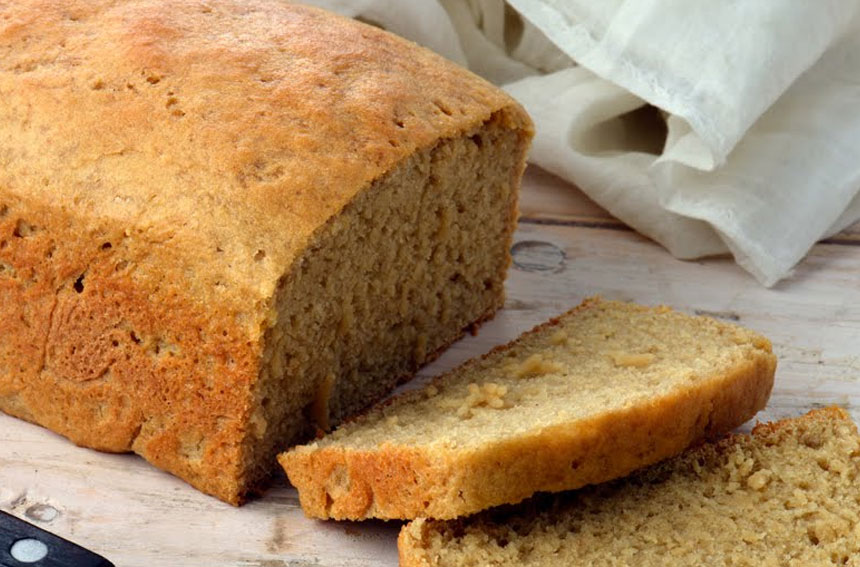 Source: Youtube.com
Homemade Brown Bread is simple and tasty bread which your can easily prepare at your home for you loved once. Homemade bread is more hygienic and tasty than the store bought one. This bread is low in calories, rich in fiber, and minerals. This bread is perfect option for morning breakfast. Let's follow this recipe.
Ingredients
2 1/2 cupswhole wheat flour (gehun ka atta)
1 tbsp instant dry yeast
2 tspsugar
3/4 tspsalt
1 tspolive oil
for sprinklingwhole wheat flour (gehun ka atta)
1/4 tspolive oil for brushing
Directions
In a bowl, add the yeast, sugar and ¼ cup of warm water, cover it with a lid and keep it aside for 10 minutes.
In a bowl, add the whole wheat flour, salt and yeast-sugar mixture, mix it well and knead into a soft dough by using enough warm water.
Add the olive oil and knead very well till the dough is smooth and shape the dough into a proper round shape with the help of your hands while tucking the edges at the bottom.
Cover it with a dry muslin cloth and keep aside in a warm place for 45 minutes or till the dough is double in size.
Sprinkle the whole wheat flour over a smooth, flat surface, place the dough over it and knead it very well by using both your hands and if the dough is getting sticky while kneading, then sprinkle little whole wheat flour as required.
Tap the dough with your fingers and spread it to make a 250 mm. X 200 mm. (10" x 8") diameter oval shape.
Roll the dough to make a 200 mm. (8") long cylindrical roll and place it in a greased bread loaf tin.
Cover it with a dry muslin cloth and again keep it aside in a warm place for 30 minutes.
Bake it in a preheated oven at 200°c (400°f) for 10 minutes
Lower the temperature to 180°c (360°f) and bake it for 20 minutes.
Once the bread loaf is slightly cooled, de-mold it and keep it aside to cool slightly
Brush the bread loaf with a little olive oil and once the bread loaf has cooled completely, cut it into 13 mm. ( ½') bread slices.
Serve it or store in an airtight container and use as required.
Nutrient Values Per Slice
Energy: 63 cal
Protein: 2 g
Carbohydrates: 12.3 g
Fiber: 0.3 g
Fat: 0.7 g
Cholestero: 0 mg
Vitamin A: 8.3 mg
Vitamin B1: 0.1 mg
Vitamin B2: 0 mg
Vitamin B3: 0.7 mg
Vitamin C: 0 mg
Folic Acid: 6 mg
Calcium: 8.1 mg
Iron: 0.8 mg
Magnesium: 0 mg
Phosphorus: 0 mg
Sodium: 3.4 mg
Potassium: 53.2 mg
Zinc: 0.4 mg
By Meghna Nath
This Recipe Rate :
(0) Reviews