Tasty and Tangy Mango Lassi Recipe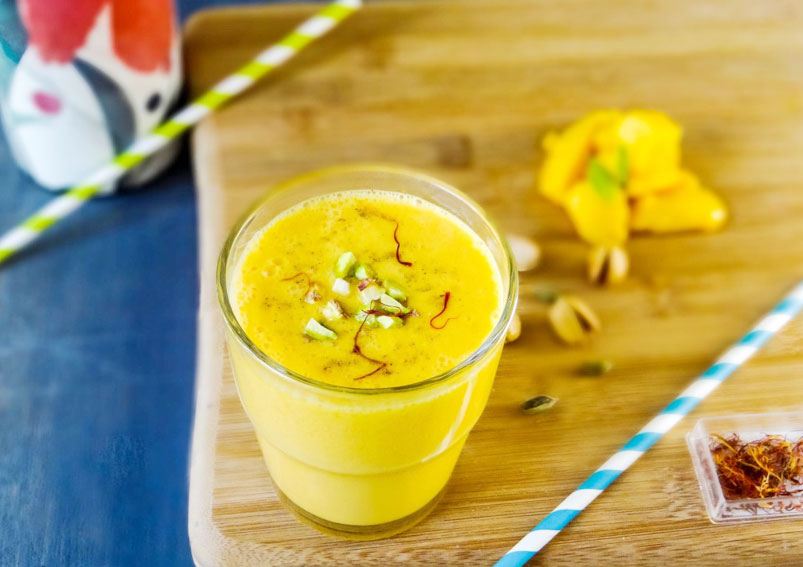 Source: pinterest.jp
Mango Lassi is one of the most refreshing yogurt based drinks of Indian cuisine. The addition of mango gives a nice rich golden color and also gives a nice taste and flavor. This drink can be very easily prepared at your home. This drink makes a perfect welcome drink when you have a unexpected guests at home.
Ingredients
1 1/2 cupschilled and roughly chopped mangoes
1 1/2 cupsfresh curds (dahi)
1/2 cupcold milk
2 tbsppowdered sugar
For theGarnish
as neededmangoes cubes
Directions
In a blender, add chopped mangoes, curd, cold milk, powdered sugar, and blend till it is smooth and frothy.
Pour into 2 individual glasses and garnish it with mangoes and serve it chilled.
Nutrient values per glass
Energy 360 cal
Protein 9.2 g
Carbohydrates 39.7 g
Fiber 0.7 g
Fat 13.4 g
Cholesterol 0 mg
Vitamin A 3200.1 mcg
Vitamin B1 0.2 mg
Vitamin B2 0.3 mg
Vitamin B3 1.1 mg
Vitamin C 18.8 mg
Folic Acid 11.2 mcg
Calcium 434.7 mg
Iron 1.8 mg
Magnesium 0 mg
Phosphorus 0 mg
Sodium 65.3 mg
Potassium 395.2 mg
Zinc 0.3 mg
Meghna Nath
This Recipe Rate :
(0) Reviews