Mango Smoothie Recipe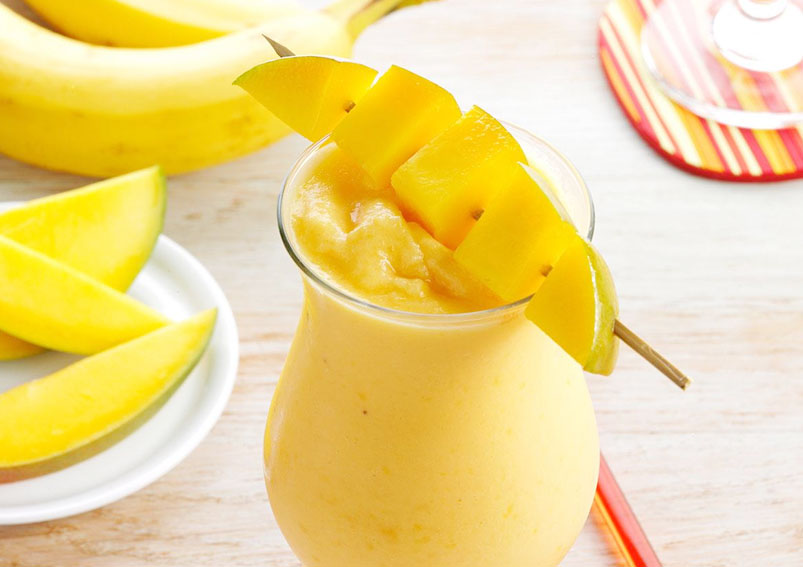 Source: www.tasteofhome.com
Mango Smoothie is a simple, delicious, and refreshing smoothie for any occasion. This smoothie is a quick and easy recipe which help you to boost your energy levels. It contains lots of vitamins, minerals, and proteins. Try this smoothie at home during this summer and surprise your kid's.
Ingredients
2 cupsfrozen mango (chopped)
1/4 cupfrozen banana slices
1/2 cupcoconut milk
2 Tbspsugar (adjust to taste depends on how much sweet is mango)
2 tsplime juice
1 tspginger (finely shredded)
1 cupcrushed ice
4-5leaves mint (for garnishing)
Directions
In a blender add frozen mango, banana, coconut milk, sugar, lime juice, ginger, crushed ice, and mint leaves.
Blend it on a high speed to make smooth and fluffy and add some water to make desired consistency.
Pour it into a serving glass and garnish with mint and serve it chill.
Serving suggestion
If you want to serve mango smoothie as a dessert then don't add any water and serve in bowls and garnish with chopped mangoes and mint leaves.
Meghna Nath
This Recipe Rate :
(0) Reviews