Fried Chicken Momos Recipe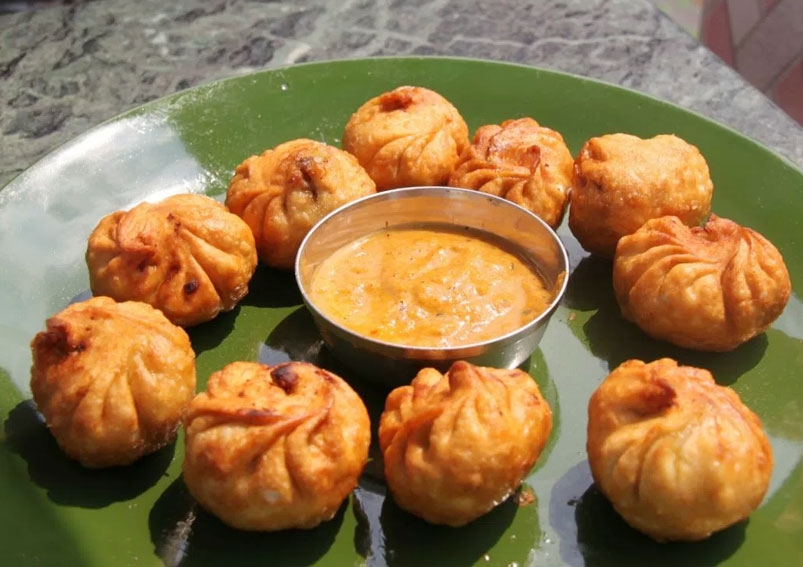 Fried Chicken Momos is a famous North Eastern snack recipe. It is a famous street food that is first steamed and then fried. This is a lip-smacking recipe. These fried Momos are crispy and really tasty. Let's follow this yummy recipe.
Ingredients
For the dough
2 cups(250 gm) refined flour
1/2 Tbspsalt
1/4 Tbspbaking powder
For the filling
1 cupchicken mince
Oilto deep fry
1/2 cuponions finely chopped
1 Tbspgarlic chopped
1/2 Tbspsoya sauce
1/2 Tbspto taste
1/4 Tbspvinegar
1/4 Tbspblack pepper
Directions
In a bowl add refined flour, salt, and baking powder and knead to a stiff dough, with water.
Heat 1 tbsp oil and add the onion and garlic and saute till onions are soft and add the chicken mince.
Cook on a high flame or cook till the chicken is almost cooked and switch off the flame.
Add soya sauce, salt, vinegar, and black pepper and mix well and keep it aside.
Roll dough thin (translucent) and cut into 4"-5" rounds and take a round, wet edges and place some filling in the center, bring edges together to cover the filling, twist to seal.
Steam for about 10 minutes, and leave to cool and deep fry in hot oil till brown and crisp and serve with soya sauce and chili sauce.
Check More Holiday Recipes
Meghna Nath
This Recipe Rate :
(0) Reviews