South Indian Pork Curry Recipe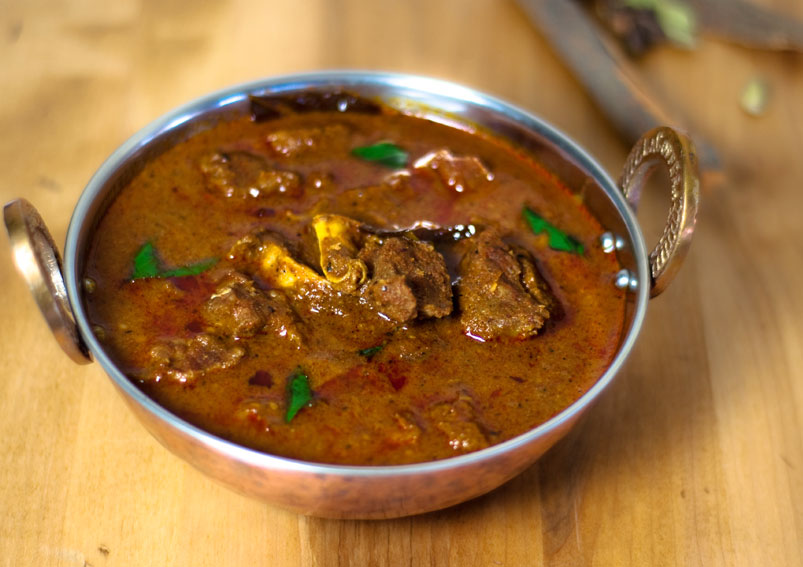 Try this authentic Spicy Pork Recipe and include pork as a part of your diet plan. Include all the South Indian Spices in preparing the recipe and make your dish delicious.
Ingredients
½ kgPork
2 tablespoonsRed chili powder
½ tablespoonBlack pepper powder
2 tablespoonsCoriander powder
½ tablespoonTurmeric powder
3Cloves
1 pieceCinnamon
1Cardamom
½ tablespoonCumin seeds
2 piecesGinger
5Garlic pods
2Onions
2Tomatoes
10Curry leaves
2 tablespoonsVinegar
2 tablespoonsSoya sauce
Saltto taste
Oilfor cooking
Directions
Cut pork into medium size pieces and wash them well
Place red chili powder, black pepper, coriander powder, turmeric powder, cloves, cinnamon, cardamom and cumin seeds in a grinder and make them to a smooth paste
Cook the pork pieces along with some salt and a pinch of turmeric powder
Pressure cook it for 5 minutes till you get one whistle
Heat 4 tablespoons of oil to the pan and add ginger, garlic and onions pieces to it. Let them saute for a minute
Add ground ingredients and saute it on low flame till 3 minutes
Take care not to burn masala. Add tomatoes to it and a pinch of salt
Cook perfectly till the tomatoes get mashed up and oil starts separating from the masala
When masala is done, add the cooked pork pieces to it along with vinegar, soya sauce, salt and a cup of water
Stir them well and cover it with a lid
Add paneer cubes to the pan and cook them for 3 minutes till they become soft
Cook on a medium flame for about 10 minutes
Add curry leaves and garnish with coriander leaves at the end.
Serve it hot with rotis or rice. Add chicken bouillon for better taste. Pork is naturally low in salt and is rich source of protein. Know the Benefits of Pork.
This Recipe Rate :
(0) Reviews