Crispy South Indian Medu Vada Recipe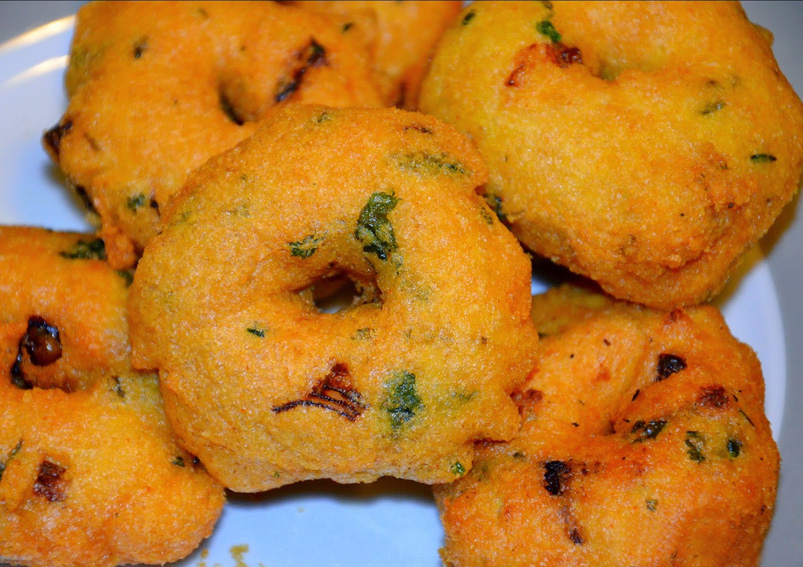 The Famous South Indian Vadas will definitely become your heart favorite recipe. The dish tastes good with coconut chutney or even with sambar. Try this recipe and make it as a part of everyday breakfast.
Ingredients
1 cupUrad dal
2 Green chilies
½ tablespoonRaw rice
½ teaspoonFried gram
Salt to taste
Plastic sheet or banana leaf for making vadas on it
Oil for frying
Directions
Soak urad dal, rice and fried gram in water for about 1 hour
Refrigerate it for another half hour
Drain the water completely and grind them along with green chilies
Add salt the batter and grind it again
Do not add much water. Just sprinkle few drops now and then if required
Now your batter is ready for vadas
Place a kadai on a high flame and add oil to it
Once the oil is heated, reduce the flame and start dropping the batter by making round shapes on banana leaf with hole in it
Fry until golden brown on both the sides and remove it from oil
Place the fried vadas on a paper towel or in colander to drain excess oil
Repeat the process with remaining batter. You can place 3 to 4 vadas at a time in the oil and fry them
Place them on the serving plate and serve it with either coconut chutney, sambar or with tomato sauce.
If you want to prepare Rasam Vada, soak them in rasam immediately after removing them from oil. Never try to skip breakfast as it is really an important meal of the day and it does give you energy for the whole day. Try this recipe for your breakfast every now and then.
This Recipe Rate :
(1) Reviews