Homemade Mutton Paya Recipe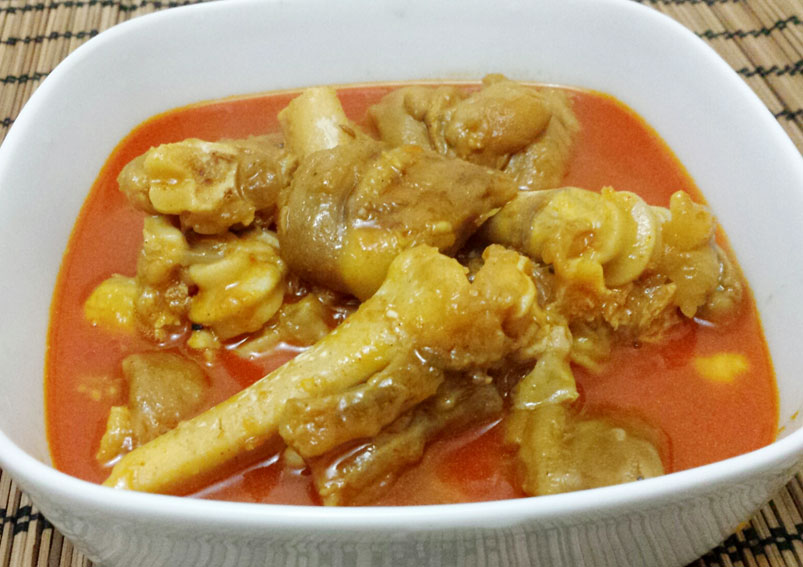 Mutton Paya is a healthy and heavy stew made from goat bones or lamb with rich gelatin marrow covered with meat. This is a cuisine in North and South Indian dish. This can be served for breakfast or soup along with rice or roti.
Bone-based soups like mutton leg soup contains lot of calcium which is essential for the bone developing and teeth strengthening the body.
Here is the healthy soup recipe of Mutton paya in a step by step process.
Ingredients
1/2 kgGoat legs (paya)
1 cupRice flour
2 tablespoonSaffola oil
3Onions, sliced
6Garlic cloves
8Black peppercorns
2Half- inch cinnamon sticks
2Cloves
1Dried red chilli
1/4 teaspoonTurmeric powder
to tasteSalt
2 teaspoonsCoriander powder
4Green chilies
1 teaspoonPoppy seeds
1/2 cupDried coconut, grated
2 tablespoonsFresh coriander leaves, chopped
Directions
Heat 1 cup of water in a non-stick pan with salt.
Slowly add rice flour in water and stir continuously to avoid lumps. When it comes to thick paste remove the pan from flame, cover with lid and let it cool.
Heat 1 tablespoon oil in a nonstick pressure cooker.
Add sliced onion, 2 garlic cloves, 4 black peppercorns, 1 clove, 1/2 inch cinnamon stick, 1 broken dried red chili and saute it for a minute.
Now, add goat legs, 1/4 teaspoon turmeric powder, salt, 1/2 teaspoon coriander powder and 2 1/2 cups water.
When the water is boiling, cover the cooker with the lid and cook on a high flame till it gets 4 whistles.
After 4 whistles, open the lid of pressure cooker.
Let pressure come down completely and strain the stock.
To make gravy, heat 1/2 tablespoon oil in a non-stick pan. Add 1 sliced onion, green chilies, 1 clove, 4 black peppercorns, poppy seeds, 1/2 inch cinnamon, 4 garlic cloves and cook for a minute.
Switch off the flame and add dried coconut and mix it well.
Add 1+1/2 teaspoons coriander powder and a pinch of salt and mix well.
Cool slightly in a room temperature and grind coarsely with 1/4 cup water.
Add coriander leaves and grind again.
Heat remaining oil in a deep non-stick pan, add sliced onion and cook for 1/2 minute.
Add boiled goat legs, ground paste, a pinch of salt and saute for a minute.
Finally, strained the stock and simmer on low heat.
Switch off the flame and take the soup in a bowl to Serve.
Mutton Paya soup is ready to eat, garnish with coriander leaves that gives a great flavor to the paya.
Check for more healthy soups.
- Moses
This Recipe Rate :
(0) Reviews