Masala Vade with sapsige soppu Recipe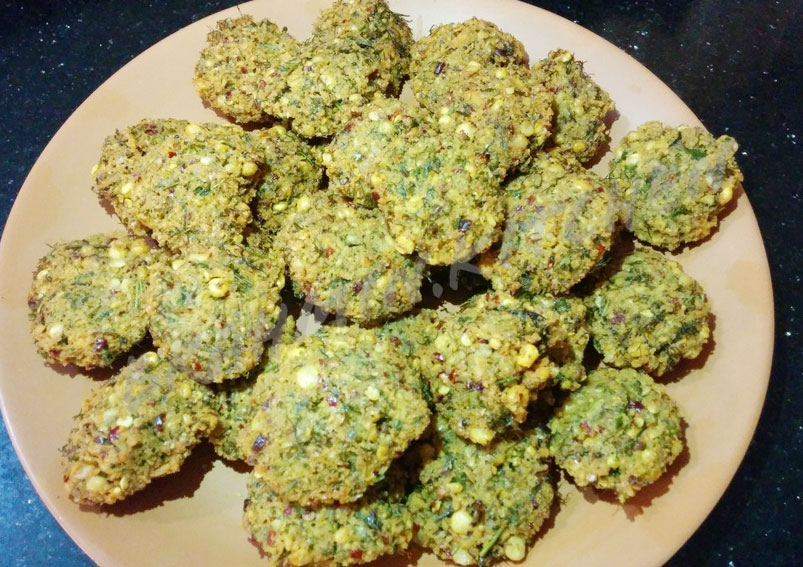 Masala Vade is one of the most famous snack for Karnataka people. It is prepared during festival seasons and family gatherings. Masala Vade or Ambode is prepared with dill leaves which gives a good flavor and taste, that you can't stop eating them.
Here is the recipe of a Ambode or Masala Vade ...hope you all like vade.
Ingredients
1+1/2cupsChanna dal/Kadale bele
1/2cupDill greens/Sapsige soppu (chopped)
1/4cupCoriander (chopped)
1Onion (chopped)
1 or 2 tbspFresh coconut (chopped)
1/2 cupCurry leaves (chopped)
Oilfor frying
Masala for grinding:
3Dry red chilies
2Green chilies
1 pieceGinger
1/2tspJeera/cumin
1/2 cupBlack peppercorn
small pieceCinammon stick
3-4Cloves
1 pinchTurmeric
saltas per taste
Directions
Wash channa dal and soak in water for 30-45 minutes. After soaking drain the water.
In a blender, add all the masala's and grind it.
After that, add soaked channa dal and grind it roughly with out adding water.
Take a bowl, add the grinded mixture, dill greens, coriander, chopped onion, coconut and curry leaves and mix well.
Heat oil in a pan or kadai, make small balls of the mixture and dip in the heat oil.
Cook them on medium heat, keep on frying evenly on both sides until it get golden brown in color.
After fried, keep it on a paper plate to drain the excess oil.
Finally, Masala Vade is ready to serve. It goes good along with the combination of Gasagase Payasa.
- Mayuka
This Recipe Rate :
(0) Reviews