Navaratan pulav recipe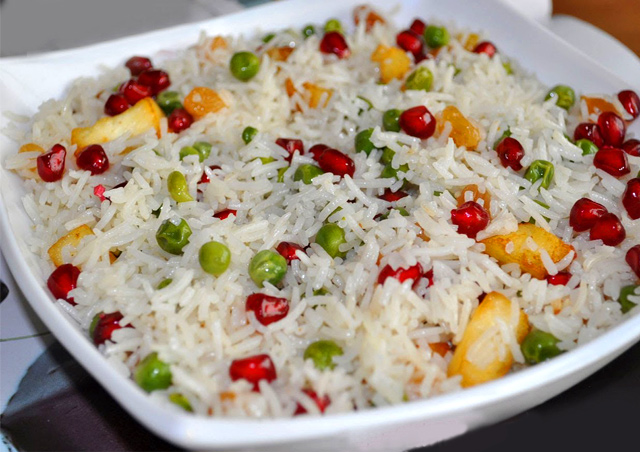 We can prepare the Navaratan Pulav in special occasions or on holidays. It is tasty and healthy.
Let's have a look how to prepare this recipe.
Ingredients
3 cupsBasmati rice
5 cupsWater
5Beans
1 cupGreen peas
2Potato (medium size)
15Cashew nuts
10Badam
10Raisons
1 cupSweet Corn
7Green Chillies
2onion
2 tspnGinger garlic paste
2Tomato
1 inch stickCinnamon2
3cardamom
5Clove
8 tspGhee
For tasteCoriander Leaves
Directions
Step

1

Wash the rice with pure drinking water twice and soak it with 2 cups or as per required water for 30 mins.

Step

2

Add the ghee, badam, cinnamon, cashew nuts, clove in a pan and heat it.

Step

3

Mix the green chillies, ginger garlic paste (Masala) and onions saute it until the oinions reaches light brown in color.

Step

4

Now mix it well with carrots, beans, tomatoes, potato subes, peas and sweet corn and heat it for few minutes.

Step

5

Add the washed rice and water as mentioned the quantity and salt, coriander leaves in a cooker and cook it till the rice boiled.

Step

6

Finally after removing from cooker add onions, curd and serve it.
This Recipe Rate :
(1) Reviews