Kerala Fish Curry Recipe with Coconut Oil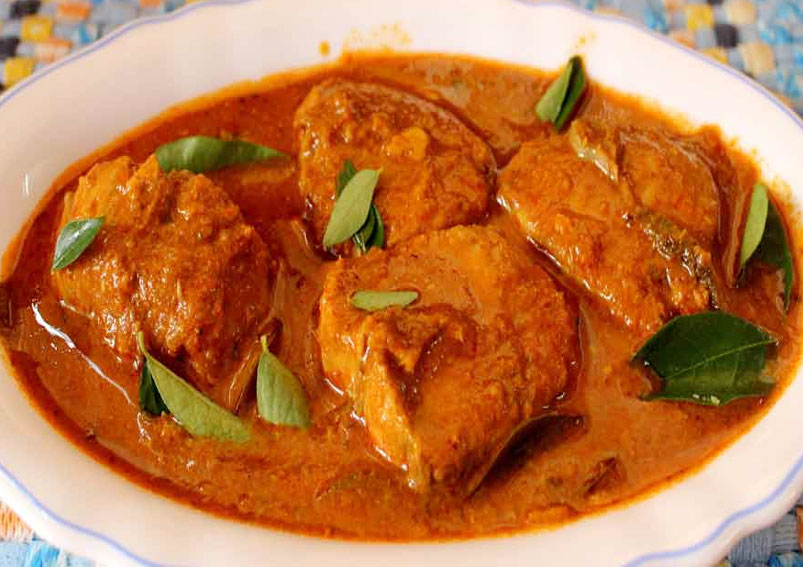 Kerala Fish Curry recipe is generally called as Meen Curry and can be prepared in different ways. You can cook the fishes with and without milk. Here is the simple Fish Curry Recipe without coconut milk. The dish also called as Toddy Shop Fish Curry. Have a look at the recipe.
Ingredients
½ kgFish
2 ½ tablespoonsChili powder
pinchTurmeric powder
1inch pieceGinger
5 clovesGarlic
6Onions
1 sprigCurry leaves
½ teaspoonFenugreek seeds
½ teaspoonMustard seeds
2 ½ tablespoonsCoconut oil
1 tablespoonTamarind juice
Salt totaste
Directions
Chop onions, ginger and garlic into fine pieces
Add little water to chili and turmeric powder
Make it into paste
Place cooking pan a low flame and add oil to it
Put mustard seeds and fenugreek seeds in oil and let them splutter
Add chopped onions, garlic, ginger to the pan and stir them well
Fry them till they become golden brown in color
Put chili and turmeric paste in oil and stir it well on low flame for abour 2 minutes
Add water to the pan and allow it to boil
Put the fish pieces in the pan and add salt to it
Boil the fish pieces in the mixture for about 15 minutes
Add tamarind juice to the boiled fishes and close the lid for 5 minutes
Add curry leaves at the end and off the flame
Tasty Kerala Fish Curry is ready to eat. As rice is excellent combination with fish, serve the curry with rice.
Make sure not to stir the fish once it is cooked, as there are chances that fish breaks into pieces. The curry leaves to the fish gives authentic taste. Have a look at Kottayam Fish Curry.
This Recipe Rate :
(0) Reviews