South Indian Capsicum Rice Recipe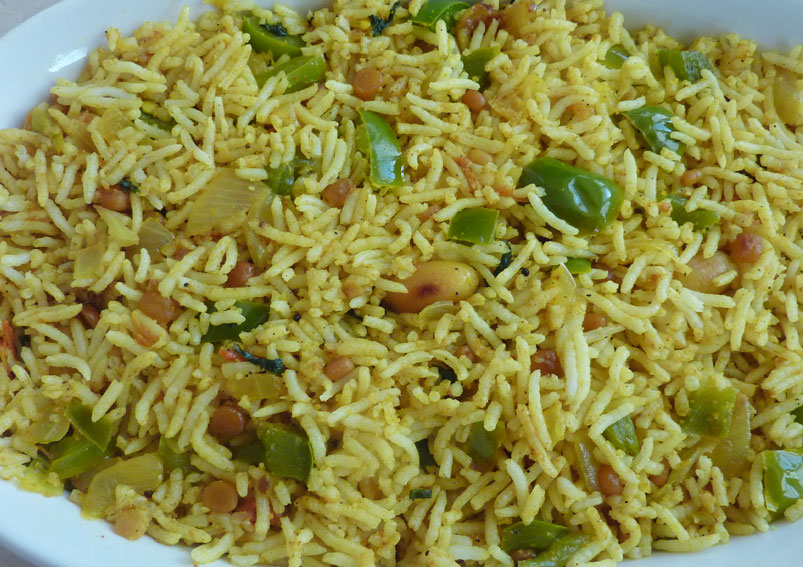 The Flavorful Capsicum Rice is a simple and easy to prepare dish that tastes excellent with raita. Have a look at tasty and yummy recipe, so that you can prepare it for your family members.
Ingredients
2 cupsRice
2Capsicum
½ teaspoonMustard seeds
10Cashew nuts
1 tablespoonOil
¼ tablespoonCumin seeds
2 tablespoonsCilantro
1 tablespoonCoriander seeds
1 tablespoonUrad dal
SaltDry red chilies
1 springCurry leaves
1 tablespoonGrated coconut
Directions
Wash the rice with water and steam it in a pressure cooker.
Keep aside the boiled rice and let it cool
Dry roast coriander leaves, urad dal, dry chilies, curry leaves, grated coconut
Make all the roasted ingredients in to powder using a blender
Place a pan on flame and add 1 tablespoon of oil to it
Add chopped capsicum pieces to it and saute them till they become soft
Add spice powder, turmeric powder, salt and fry them for a minute
Add the boiled rice to it and fry them together till each rice grain is nicely coated with spice powder
Check and add salt if required
Add the fried cashew nuts, cilantro at the end and shift the rice in a serving bowl
Serve it hot to your guest.
The rice has lots of flavors with capsicum and spices added to it. You can have it with raita and Homemade Potato Chips. Having capsicum in your diet includes relief from cancer, peptic ulcer and lower risk of cardiovascular diseases. Know Health Benefits of Capsicum.
This Recipe Rate :
(0) Reviews