Tasty Chocolate Walnut Ice Cream Recipe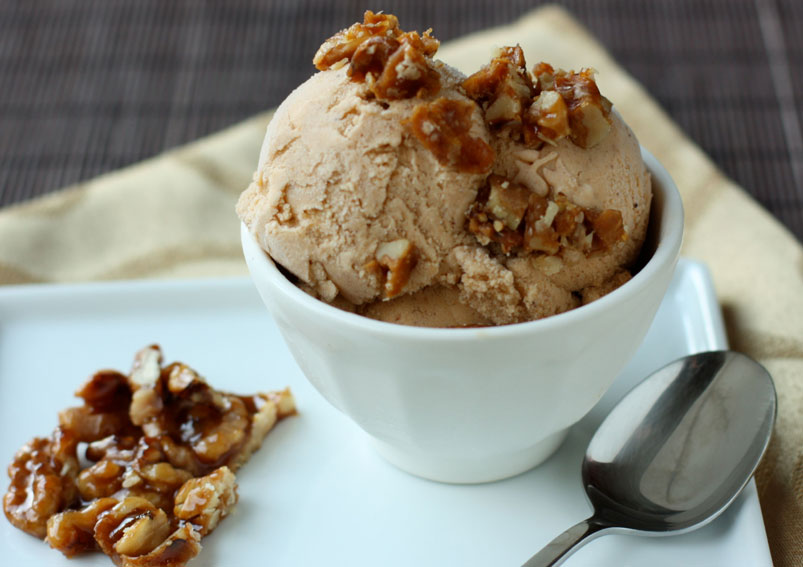 Try this ultimate indulgence Bread Walnut Ice Cream Recipe that tastes excellent with crisp candied walnuts. Drizzle it with warm caramel sauce.
Ingredients
2 cupsLow fat milk
4 tablespoonsSkimmed milk powder
1 ½ teaspoonsCorn flour
1 ½ teaspoonLow fat cream
2 tablespoonsSugar substitute
6 tablespoonsRoasted brown bread crumbs
½ teaspoonVanilla essence
2 tablespoonsCrushed walnuts
Directions
Take a small mixing bowl and add milk powder, corn flour powder, 1 tablespoon of milk
Mix them well and keep aside
Boil the milk and when it is boiling add milk powder and corn flour mixture to it
Stir it continuously while adding the mixture
Boil it on low flame till the milk thickens for about 5 to 8 minutes
Keep aside and let it cool
Add cream, sugar substitute, brown bread crumbs and vanilla essence to the cool mixture and mix it well
Pour the mixture in a vessel and cover it with lid
Freeze it for 3 hours
Remove it from freezer and blend the mixture till smooth
Add walnut pieces to the blended mixture and pour it in the same vessel
Freeze it again before serving.
Place them in an individual bowl and serve it to your guests or family members. Walnuts are the delicious nuts that help to reduce the bad cholesterol. Know the Benefits of Walnuts.
This Recipe Rate :
(0) Reviews