Chamapadumpalu or Arbi Fry Recipe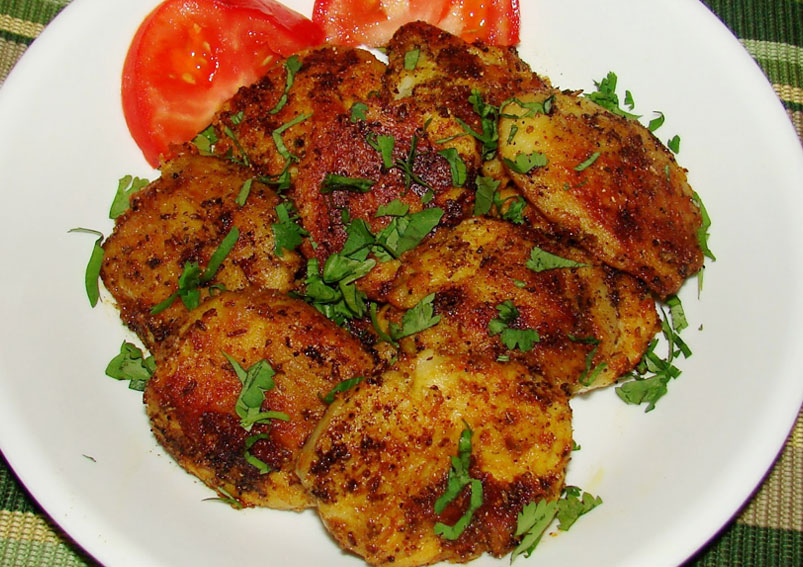 Know South Indian Style Arbi Fry Recipe and have it as a side dish during a get together. This no onion recipe is very easy to prepare. The rising of arbi is only time taking process.
Ingredients
250gmsArbi
½ teaspoonMustard seeds
10 leavesCurry leaves
2Dry red chilies
½ teaspoonTurmeric powder
½ teaspoonRed chili powder
1 tablespoonRice flour
2 tablespoonsOil
½ teaspoonCoriander powder
Saltto taste
Directions
Rinse 250gms of arbi with water and drain them
Steam them in pressure cooker till they are softened. Make sure that they do not become mushy
Peel them and slice them to round pieces
Place pan on flame and add oil to it
Add 1 teaspoon of mustard seeds and crackle them
Then add dry red chilies and 8 curry leaves
Stir them and saute them for a minute till red chilies changes its color
Add sliced arbi to the pan and stir them well
Add pinch of turmeric powder, ½ teaspoon red chili powder and coriander powder
Stir them well and fry them a minute
Add 1 tablespoon of rice flour and stir again very well so that all the spices are evenly mixed
Add salt to it and stir again on low flame
Roast the arbi pieces till they become crisp and golden in color
Turn off the flame and remove the pieces to a serving bowl.
Serve these pieces with sambar rice or rasam rice.
This Recipe Rate :
(0) Reviews