Healthy Ragi Roti Recipe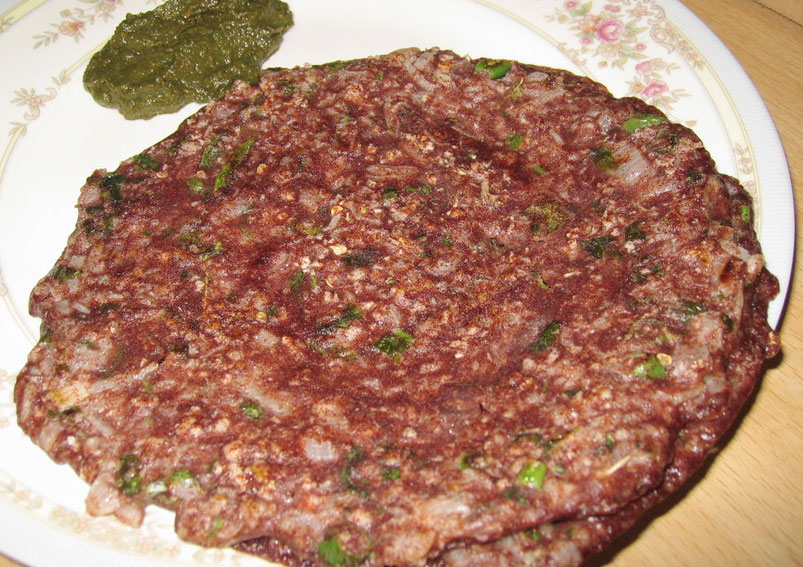 Ragi Roti is a delicious and healthy food for diabetics and you have this roti for your dinner. It is packed with goodness of ragi and is made just like a regular roti. Have a look at easy Preparation of Ragi Roti.
Ingredients
4 cupsRagi flour
1 cupWheat flour
3 teaspoonsPotato
Salt to taste
Oilfor frying
Choppedcilantro
Directions
Boil the potato and mash it after it turns cool
Take a mixing bowl and add mashed potato, flour, cilantro, salt to it
Mix them well and knead it to form soft dough
Do not add more water as the moisture from potato is enough to form the soft dough
Let the dough rest for 5 minutes. Do not forget to close the dough bowl with a lid
Take a small portion of dough and roll it out like a roti using wheat flour
Place roti pan on flame and cook it on both the sides
If brown spots appear on both the sides, then it indicates that the roti is cooked
Remove the roti from pan and place it on a serving plate
Continue the process with the remaining dough
It takes about 1 minute for frying each side. Serve it with any side dish. As ragi is higher in proteins and minerals, you can include it as your daily diet. Know about Health Benefits of Ragi.
This Recipe Rate :
(0) Reviews