Irish Soda Bread Recipe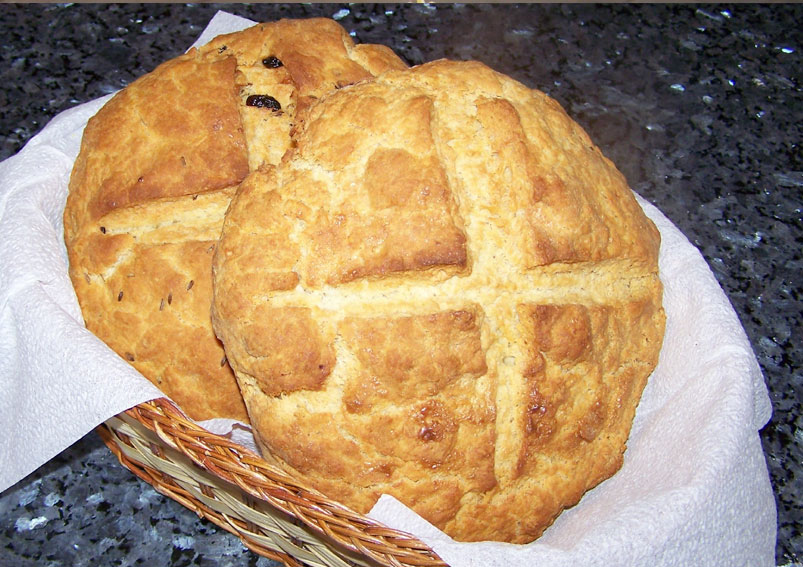 When you are in a hurry to prepare something special, try this Traditional Irish Soda Bread Recipe that takes not more than an hour. Have a look at the recipe.
Ingredients
2 cupsAll purpose flour
3 tablespoonsSugar
1 teaspoonSalt
1 teaspoonBaking soda
4 tablespoonsButter
½ cupRaisins
1Egg
1 ¾ cupButtermilk
Directions
Take a mixing bowl and add 4 cups of flour, sugar, salt, baking soda.
Mix them well
Add butter to the mixture and make it to a smooth dough
Add raisins to it
Add beaten egg and buttermilk to it
Mix them with wooden spatula until the dough becomes too stiff
Dust your hands with flour and knead the dough gently. Form a round ball
If the dough is too sticky, add more flour. Do not over knead the dough
Transfer dough on a flat neat surface and shape it into a round loaf
Transfer the whole stuff to a greased skillet or baking sheet
Using a knife, score on top of dough about an inch in an X shape so that heat gets into the center of the dough
Bake the bread till it becomes golden brown in color for about 40 minutes
Check for the doneness. If the inserted skewer comes out clean, then it is done
Remove it from oven or pan and keep it aside for about 5 minutes
Place it on a serving plate and have it as for your breakfast.
If the top is getting too dark while baking, remove it, place it aluminum foil, and bake it. You need to be careful while baking the bread on a cast iron skillet, as there are chances that the bread easily turns too dark.
Know About St. Patricks's Day.
-Neelima
This Recipe Rate :
(0) Reviews
No data