Bengali Special Baingan Bhaja Recipe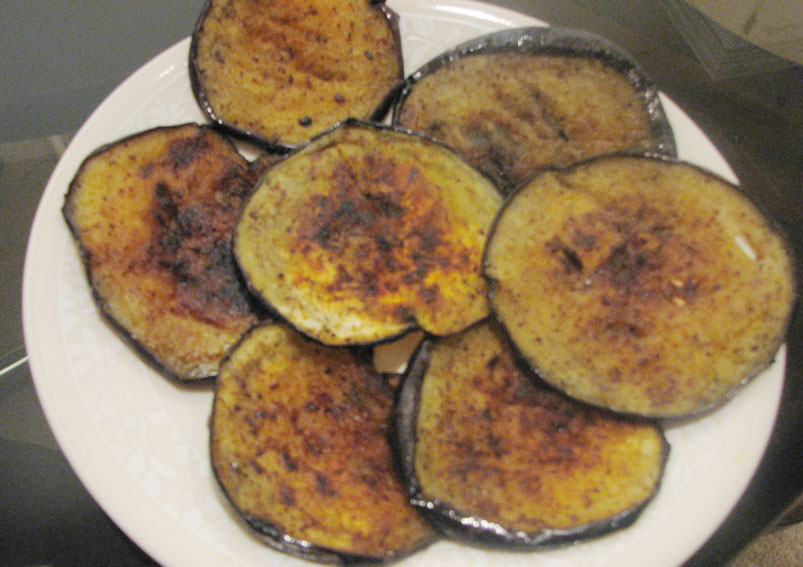 Baingan Bhaja is one of the famous Bengali Dishes that is prepared with brinjals. There are a lot of variations to the recipe. One variation is included here. Have a look.
Ingredients
1 large oneEgg plant
1 teaspoonChili powder
½ teaspoonTurmeric powder
1 teaspoonGaram masala powder
1 teaspoonAmchur powder
as per requiredRice flour
oil for fryingMustard
Directions
Wash the egg plant and then dry it with kitchen towel
Slice the egg plant into ½ inch round pieces
Soak these slices in water for about 15 minutes and dry all the pieces
Take a bowl and add turmeric powder, chili powder, garam masala powder, amchur powder and salt to it
Mix them well and marinate all the pieces with this mixture
Place pan on low flame and add oil to it
Coat each slice with rice flour and pan fry the baingan slices one after the other till they turn golden brown in color
Grain the slices on tissue paper to remove excess oil
Serve it hot with yogurt or with some bread.
You can deep-fry on pan fry the brinjal pieces. You can use some other oil instead of mustard oil for frying.
Know more About Mustard Oil and its effects on health.
-Neelima
This Recipe Rate :
(0) Reviews