Colocasia Leaves Curry Recipe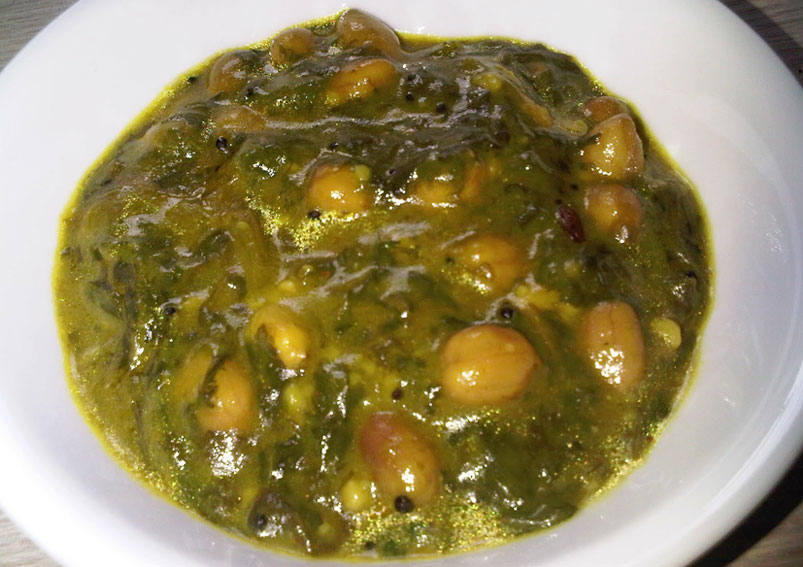 Colocasia Leaves Gravy step by step preparation process will help you to know how to make Colocasia Leaves Curry. This is very good recipe has the flavors of taro leaves along with sour and sweet taste. Have a look at the recipe.
Ingredients
5Colocasia Leaves
¼ teaspoonMethi seeds
1 tablespoonOil
¼ cupChana dal
¼ cupPeanuts
10Peanuts
¼ cupChopped coconut
1Green chilies
2 cupsWater
3 tablespoonsBesan
1 teaspoonTamarind juice
1 teaspoonPowdered jaggery
¼ teaspoonRed chili
½ teaspoonGaram masala
Saltto taste
½ teaspoonMustard seeds
¼ teaspoonCumin seeds
10 leavesCurry leaves
Directions
Heat water and soak chana dal, peanuts in water for about half an hour
Drain the water and keep them aside
Rinse the colocasia leaves in water and chop them into small pieces
Place pan on oil and heat oil init
Add methid seeds first then colocasia leaves
Saute them for about 10 minutes till the leaves wilt
Add the drained peanuts, cashews, green chilies, chana dal and chopped coconut pieces to fried leaves
Mix them well and add water to it
Cook them in medium flame till the chana dal is cooked and softened
Add some water if required and cover the lid. Continue cooking for some more time
Then add 3 tablespoons of besan and stir it well
Mash the leaves while stirring and then add tamaring juice, jaggery, masala powder, red chili powder and salt
Add 1 cup of water if required. Make sure that the consistency should not be either thick or thin, but medium
Cook with a lid for 4 minutes on low flame
Now heat 1 tablespoon of oil in a pan and add mustard, cumin seeds to it
Finally add curry leaves and saute it for few seconds. Add the tempering to the gravy. The tasty Coclcasia Leaves Recipe is ready
Off the flame and remove the curry in a serving bowl
Have it with parotta or even with any bread. It also tastes good with hot rice.
Benefits and Nutritional Facts of Colocasia
-Neelima
This Recipe Rate :
(0) Reviews