Tasty Mutton Cutlet Recipe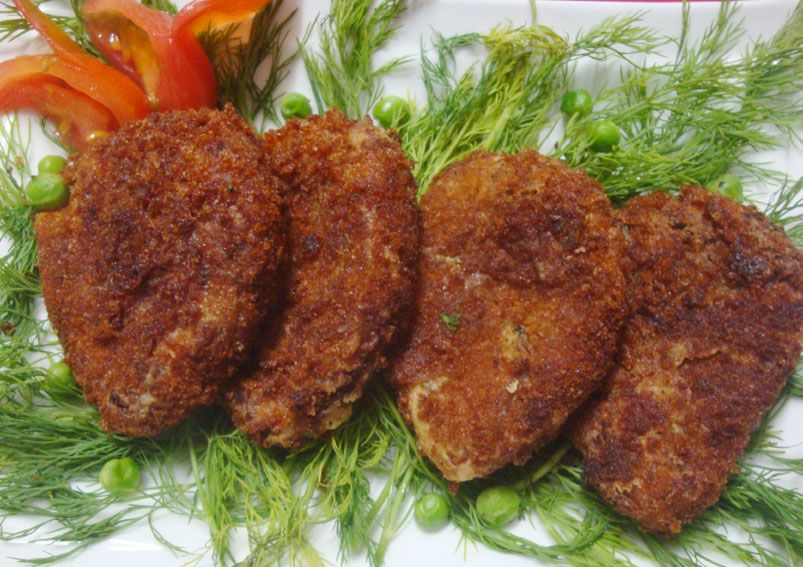 Mutton Kheema Cutlet is a very simple recipe and it will definitely be your kid's favorite recipe. You can have it as snack item during a cool evening.
Ingredients
2 cupsMinced goat meat
2Potato
2Green chilies
1Onions
1 tablespoonGinger garlic paste
10 leavesCurry leaves
1 teaspoonRed chili powder
2 teaspoonsCoriander powder
½ teaspoonTurmeric powder
1Cinnamon stick
2Cloves
1 teaspoonFennel seeds
2 eggsEgg
CrumbsBread
Oilfor frying
Directions
Boil potatoes and peel off the skin
Mash them with potato masher
Place pan on low flame and add coriander powder, red chili powder and turmeric powder to it
Dry roast them for 20 seconds and add the fried powder to the minced meat
Mix them well and keep it aside
Add cinnamon, clove and fennel seeds to the mixture
Roast all the ingredients well and grind them to powder
Add the spice powder and salt to the meat mixture
Mix the spices well to the meat
Place the minced meat in a pressure cooker and cook for about 3 whistles
Let the pressure release from the cooker and open the lid
Place a pan on flame and oil to it
Add onions, curry leaves and ginger garlic paste to it
Fry them for some time and mashed potato to it
Mix them well and fry for some time
Mix it with meat mixture and beat an egg init
Add salt if necessary. Keep bread crumbs in one plate
Take small amount of meat mixture and shape into a small ball
Flatten it to a pattie shape
Dip it in egg and roll in bread crumbs
Place pan on flame and add enough oil to it
Place cutlets in hot oil and fry them on both sides till they turn golden brown in color
Remove them from oil and place them on a paper towel
The tasty Mutton Cutlets is ready to taste. You can have it directly or have it with tomato sauce.
You can also try interesting Spicy Mutton Curry if you are bored with the cutlets.
-Neelima
This Recipe Rate :
(0) Reviews