Best Fruits Salad Recipe with Chicken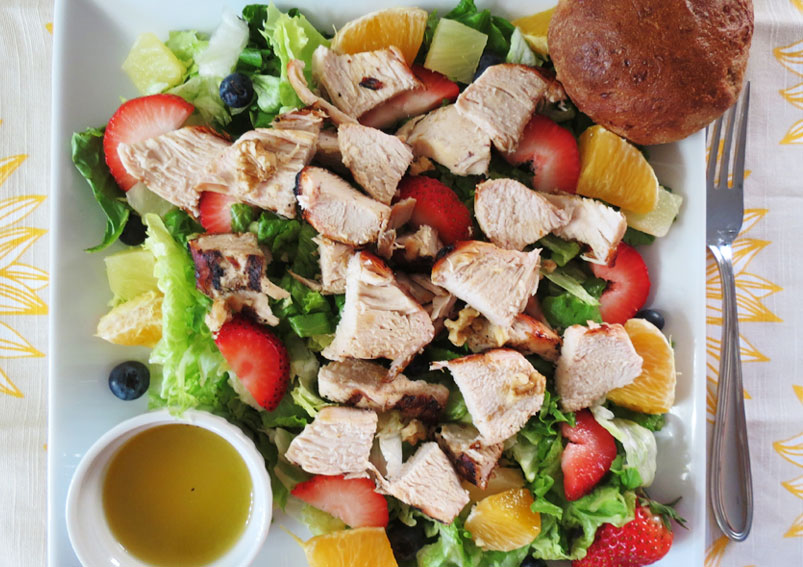 The main dish Chicken Fruit Salad is prepared by topping your favorite fruits with grilled or fried chicken breast pieces. Have a look at the recipe.
Ingredients
1 cupChicken breast pieces
½ cupStrawberries
½ cupSliced banana
½ cupKiwi
2 tablespoonsPine nuts
½ cupOrange
Oil for fryingbreast pieces
Saltto taste
Turmeric powder
Chili powder
few dropsLemon
½ tablespoonGinger garlic paste
Directions
Marinate the chicken breast pieces with salt, pepper, chili powder, turmeric powder and lemon for 10 minutes
Add ginger garlic paste and fry them oil till they become tender crisp
Place them in a salad bowl and add all the ingredients like strawberries, sliced banana, kiwi, pine nuts, orange
Mix them well and chill it for 10 minutes
Remove it from refrigerator and have it cool for your dinner.
This is one of the best Low Sodium Dinner Recipe and a healthy one too. Looking for another best sodium breakfast recipe? Try Apple Crumb and have it for your breakfast.
Know Importance of Chicken Breast and have it in your diet.
-Neelima
This Recipe Rate :
(0) Reviews