Multi Grain Adai Dosa Recipe for Diabetes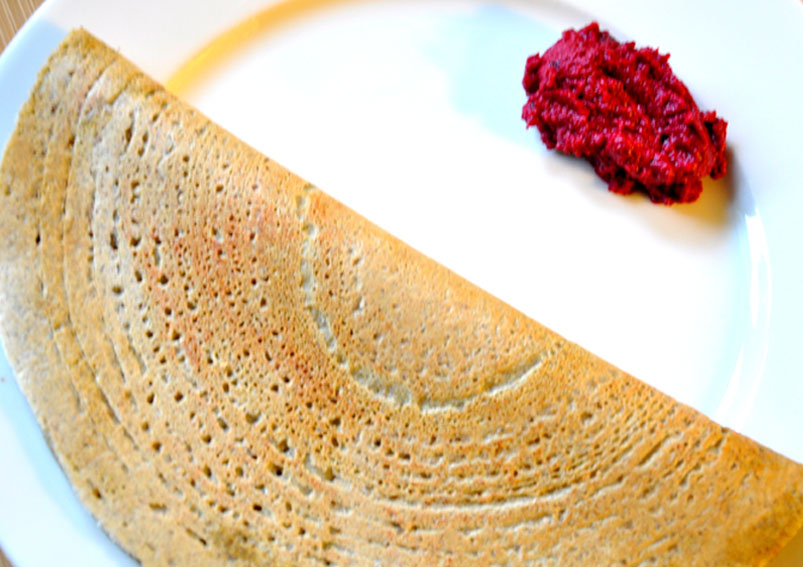 Multi Grain Pancakes are extremely healthy and nutritious dish that is prepared with combination of essential multi grains like rice, urad dal, channa dal, toor dal, moong dal and green gram dal. Follow the steps below to prepare Grain Adai Dosa, try it at home for your family members.
Ingredients
1 cupRice
1 tablespoonTur dal
1 tablespoonChana dal
2Red chilies
5 leavesCurry leaves
1 teaspoonUrad dal
1 teaspoonYellow moong dal
1 teaspoonMasoor dal
Saltto taste
Oil
Directions
Wash rice, chana dal, toor dal, urad dal, yellow moong dal, masoor dal with water
Soak them in water for about 4 hours
Add red chilis and salt. Coarse them to a fine paste
Place a non stick dosa pan on flame and add 1 spatula batter in middle of the pan
Spread it from inside to outside
Drizzle oil at the ends of dosa and flip over to the other side once the dosa turns golden brown in color
Fold the dosa as shown in the image and serve it hot with Mango Chutney.
Multi Grain Vs Whole Grain, Which is healthier?
-Neelima
This Recipe Rate :
(0) Reviews