Best Dairy Free Matar Kachori Recipe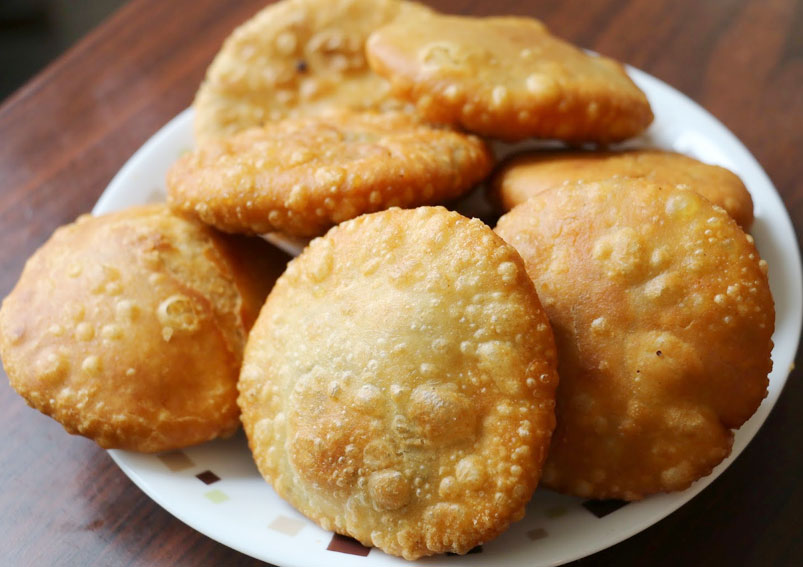 Try this Matar Kachori Recipe that is stuffed with green peas and mashed vegetables. Have it with any spicy chutney or Kashmiri Chicken Curry.
Ingredients
MaidaMaida
Saltto taste
pinchBaking powder
2 tablespoonsOil
Water
Oil fordeep frying
1 ½ cupFresh peas
2Green chilies
1 teaspoonGrated ginger
½ teaspoonCumin seeds
½ teaspoonFennel seeds
1 teaspoonCoriander seeds
½ teaspoonRed chili powder
1 teaspoonCoriander powder
½ teaspoonGaram masala powder
Saltto taste
1 teaspoonChopped coriander leaves
Directions
Add baking powder, salt, flour to the mixing bowl
Add oil and mix them well
Add some water and make a soft dough
Cover it with a cloth and keep it aside for about 30 minutes
Place peas, ginger, green chili in a grinder and make it a coarse paste. Do not add water to it
Add 1 tablespoon of oil to the pan and heat it for a minute
Add crushed coriander, cumin seeds, fennel seeds to the oil
Add peas paste to the pan and cook for about 8 to 10 minutes on medium flame. Stir it occasionally till the raw smell disappears
Add red chili powder, coriander powder, salt, amchur powder and combine them well. Cook all the ingredients for about 4 minutes
Add coriander leaves and mix it well with the stuff. Off the flame and keep it aside for filling
Place a deep pan on flame and add oil for frying the pooris
Take some part of the dough and flatten it to make poori
Add 2 spoons of fried peas mixture and bring all the edges together to seal
Toll it to make a ball and make medium size poori. Do not make the poori too thick or too thin
Place it in hot oil and allow it to puff up
Gently turn to the other side and fry it till the other side also turn golden brown in color
Repeat the same with the other part of dough and place it on a paper towel to remove excess oil
Place it on a serving plate and serve it with any chutney or curry.
-Neelima
This Recipe Rate :
(0) Reviews