Easy Homemade Black Forest Recipe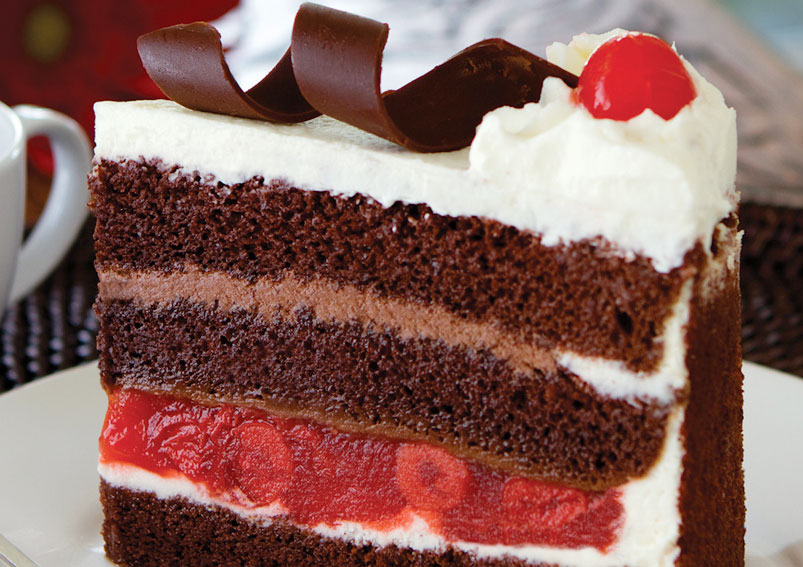 Black Forest Cake is definitely a gem among the cake recipe and especially kids like to have more and more. Try this recipe for your anniversary and have it along with your family members.
Ingredients
2 cupsFlour
1 ½ cupSugar
¾ cupCocoa powder
1 ½ teaspoonsBaking soda
1 teaspoonBaking powder
pinchSalt
1 cupMilk
½ cupVegetable oil
1 teaspoonVanilla essence
1 ½ teaspoonsInstant coffee powder
1 cupHot water
2Eggs
2 cupsWhipping cream
2 tablespoonsTinned cherries
½ cupChocolate
Directions
Heat a cup of water and add 1 tablespoon of coffee powder to it
Keep it aside
Take a large bowl and add flour, cocoa powder, baking powder, salt to it. Mix them well and add sugar to the mixture
Add milk, oil, vanilla essence to the dry ingredients and mix them well
Beat eggs in it and mix them well
Add hot coffee water and mix them well
Grease the pan with butter and pour the mixture on the greased pan
Bake it for about 40 minutes under 175 degrees C
Remove it from oven once the cake is baked and place it on a wire rack to cool
While the cake is cooling, prepare the whipping cream. Place a large bowl along with beater In freezer for about 15 minutes
Place ice cubes in a plate and place the cold bowl on the ice cubes
Pour two cups of whipping cream in the cool bowl and beat it with an electric mixer at high speed for about 5 minutes
Place the whipped cream in refrigerator till you are ready with the cake
Mix 1 cup of cherry syrup with 2 tablespoons of powdered sugar
Mix them well
Invert the cake on a turn table and place it upside down so that the cake has a flat top
Drizzle 5 tablespoons of cherry syrup on cake layer so that entire cake is covered. Place the whipped cream as a layer on top of the cake
Spread some of the chopped cherries over the cake
Place another layer of cake on top of the first cake and continue the same process of adding sugar solution and whipped cream
Place the cake in the fridge for atleast an hour and serve it cool to your guest.
The left over Cherry Syrup can be stored in a clean plastic or glass container for future use. Know how to prepare Prawn Fry and prepare it as anniversary special for your family members.
-Neelima
This Recipe Rate :
(0) Reviews