Stuffed Brinjal Fry Recipe – Kathirkai Chope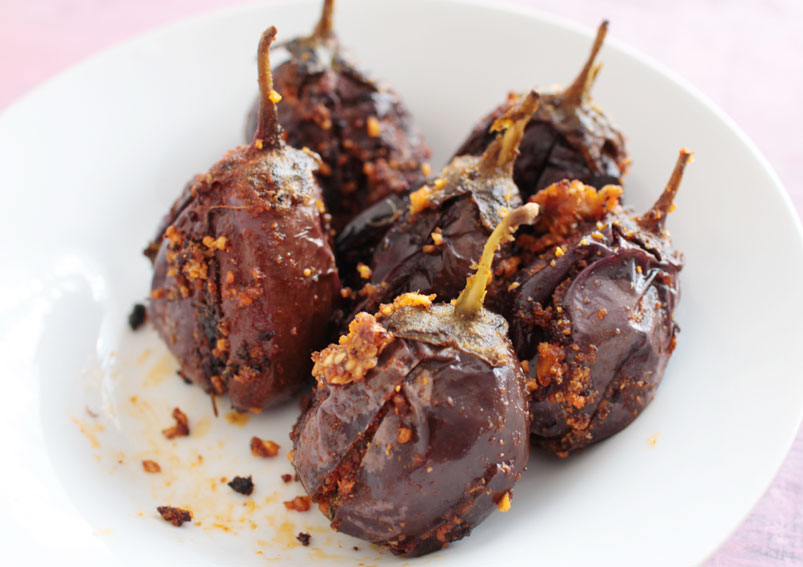 Stuffed Brinjal Curry is definitely the mouth-watering recipe and is a main course in most of the occasions or parties. Try this one of the Best Stuffed Brinjal Fry Recipe prepared with few dals and grated coconut. Have a look.
Ingredients
6Brinjal
4 tablespoonsOil
5 leavesCurry leaves
1 tablespoonFor stuffing, Channa dal
1 tablespoonUrad dal
1 teaspoonCumin seeds
1 ½ teaspoonCoriander powder
1 ½ teaspoonChili powder
½ teaspoonGaram masala powder
¼ teaspoonTurmeric powder
Saltto taste
3 tablespoonsGrated coconut
Directions
Slit the brinjals in such a way that the slits must be the side opposite to the stem
Dry roast channa dal, urad dal, cumin seeds and coconut for about 5 to 8 minutestill nice aroma comes
Place all the roasted ingredients in a blender and add salt, masala powder, coriander powder, chili powder, turmeric powder to it
Blend them to fine powder or paste
Place a heavy bottomed pan on flame and add oil to it
While the oil is getting heated, stuff the powder or paste in brinjal
Place the stuffed brinjals in the hot oil and add remaining stuffing to the same pan
Cook the brinjals on low flame
Turn to the other side and continue frying till all the sides are evenly cooked
Cook for about 10 to 15 minutes or till the oil oozes out from brinjal
Off the flame and serve it as side dish along with Sambar Rice or Brinjal Rice.
-Neelima
This Recipe Rate :
(0) Reviews