Chili Chicken Recipe Kerala Style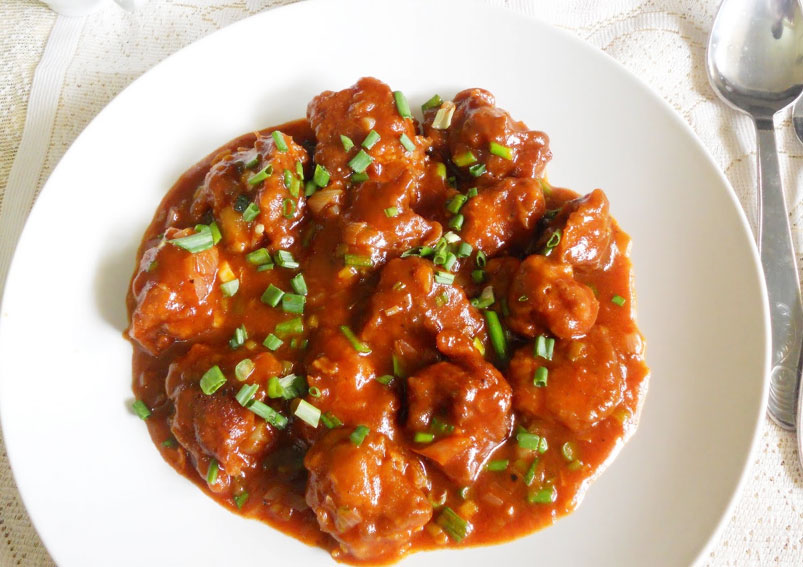 You can try Chicken Chili Recipe in couple of ways. Just try this Kerala Special Chili Chicken and have it as snacks when you find time in the evening. It is a tasty with dish of tampering and different aroma. Have a quick glance at the recipe.
Ingredients
400gms bonelessChicken
1Egg
3 tablespoonsCorn flour
1Capsicum
3Green chili
1 inchGinger
8 clovesGarlic
1Onion
1 tablespoonSoya sauce
1 tablespoonRed chili sauce
½ tablespoonTomato ketchup
for fryingCooking oil
Saltto taste
¼ cupSpring onion
Directions
Cut the chicken into small cubes and wash them with water
Drain away all the water and keep them aside
Take a mixing bowl and add one egg, 3 tablespoons of corn flour, pepper powder, salt
Mix them well and marinate the chicken pieces using the above paste for about 20 minutes
Meanwhile chop ginger and garlic into fine pieces. Slit the chilies into half. Cut the bell pepper and onion to 1 inch pieces
Separate the onion pieces into layers
Place a pan on flame and add oil to it for deep frying chicken pieces
Once the oil is heat, place the chicken pieces in hot oil and fry them till they become golden brown in color
Remove them on a plate and keep them aside
Dissolve ½ teaspoon of corn flour in water and keep it aside
Place a pan on flame and add 3 tablespoons of oil to it
Once the oil is hot, add chopped ginger, garlic and green chilies
Fry them well for 2 minutes and add onion, capsicum to it
Mix them well and add required salt to it
Saute them for 3 minutes on high heat
Add ½ cup of water, soya sauce, red chili sauce, tomato ketchup as per the quantities mentioned above and mix them well
Add fried chicken pieces along with pinch of pepper powder to the gravy and mix them well
Bring it to boil and pour corn flour mixture at the end
Stir for a minute and off the flame
The tasty Chilly Chicken is ready to serve. Garnish it with chopped spring onions and serve it hot to your guest.
If you want to have more gravy, you can add extra water to it and have thin gravy. You can have Chili Chicken as snacks or it goes well with any Delicious Vegetable Rice or any other fried rice.
-Neelima
This Recipe Rate :
(0) Reviews