Prawn and Ladies Finger Curry Recipe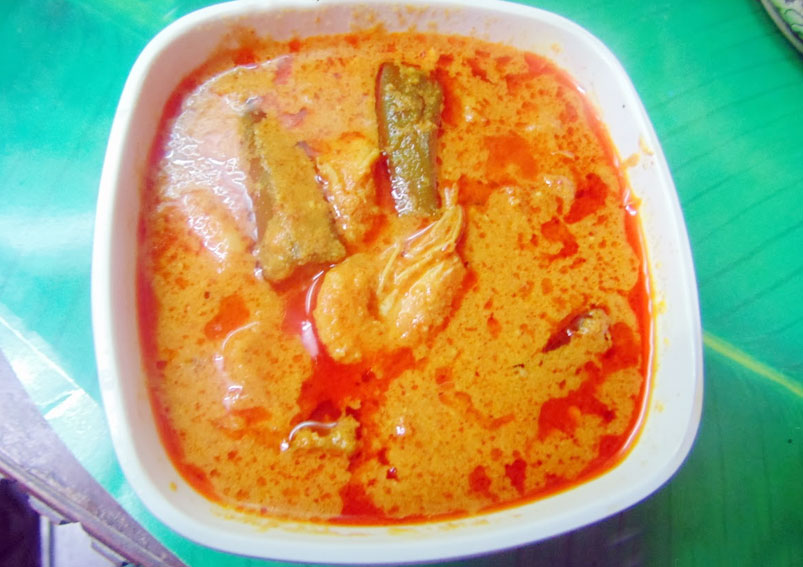 You can always find the prawn curry and dish with fish in Goan home. Try this Prawn Ladies Finger Curry also known as Prawn and Bendi Curry at home by following the below easy steps. Have the curry with plain boiled rice or you can also have it with flavored rice.
Ingredients
1 cupPrawns
300gmsLadies Finger
1Onion
1Tomato
5Kashmiri chilies
1 teaspoonJeera
1 teaspoonHaldi powder
½ teaspoonPepper
small ball sizeTamarind
3 clovesGarlic
1 inchGinger
Saltto taste
1 teaspoonVinegar
Oilfor frying
Directions
Place a pan on flame and add oil to it
Add chopped onions, tomatoes and ginger pieces to it
Saute them for few minutes
Clean the prawns neatly and add them to the pan
Toss the prawns so that it is cooked evenly on all sides
Place coconut, kashmiri chilies, jeera, coriander seeds, haldi, pepper, tamarind, galic in a blender and blend them perfectly to smooth paste
Once the prawn pieces are fried well and turned to golden brown in color, add the smooth paste to the pan and mix it well with the prawn pieces
Boil them together and add chopped ladies finger pieces to the mixture
Add some vinegar if required and salt to the mixture
Stir the mixture well and bring it to boil
The tasty Prawn with Ladies Finger Curry is ready to serve.
If you want to make the curry as gravy add more water to the Bendi mixture. If you want less water, you can cook the mixture till all the water evaporates from the pan.
-Neelima
This Recipe Rate :
(0) Reviews