How to make Soyi Polo Recipe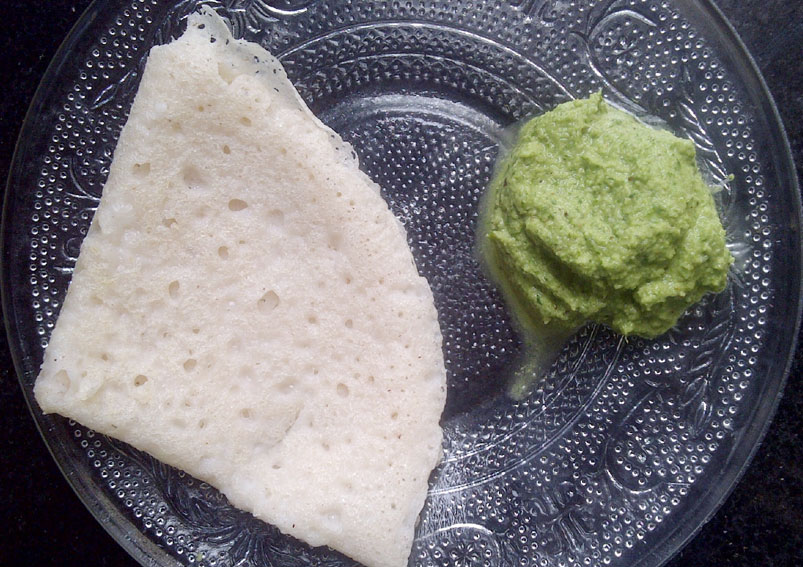 Try this different breakfast Soyi Polo Recipe – a common breakfast in North Canara. This is also called as Neer Dosa in Kannada but they add extra ingredients to prepare the dosa. Prepare the dosa using cast iron tava as it tastes excellent with such pans.
Ingredients
2 fillets1 cup
1¾ cup grated
Saltto taste
1Chili
½ teaspoonCumin seeds
FewOil
Directions
Soak rice in water for the whole night
Add grated coconut and salt to it
Blend them to smooth batter
Add chopped chili and cumin seeds to it
Place a pan or tawa on flame
Add oil to it and pour batter on the pan
Cover the dosa with plate and cook it for sometime
It has to be cooked only one side
When the dosa is cooked on one side, remove it on plate and continue the same process with remaining batter
As grated coconut is used, there is chance of sticking the coconut to the pan. So make sure to apply oil before pouring the batter on pan.
If you do not want the coconut sticking to the pan, apply oil to the pan and keep it overnight. Then you can get better and excellent dosa without sticking. Also try the Karnataka Special Neer Dosa that is simple with few extra ingredients to the above ingredients.
Importance of Eating Breakfast
-Neelima
This Recipe Rate :
(0) Reviews