Kerala Style Pork Curry Recipe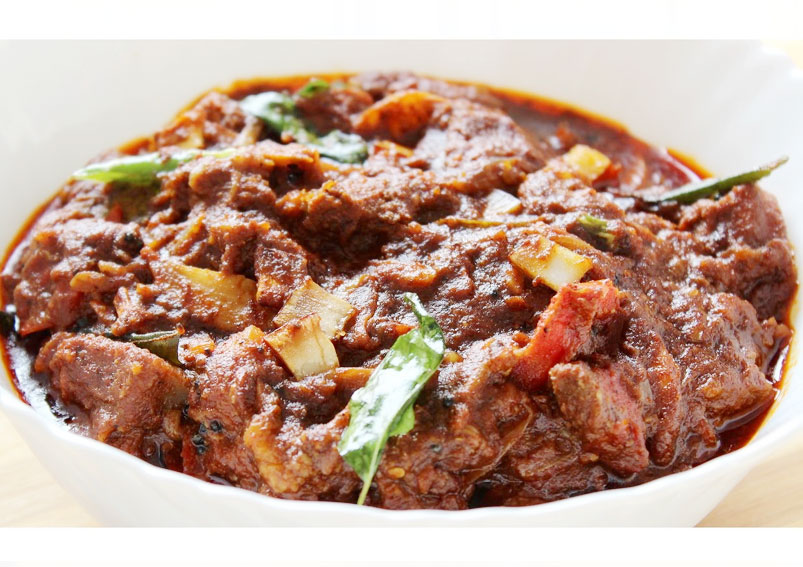 Try this Pork Semi Gravy Recipe that tastes yummy and when it is a Kerala style, there is nothing much to say about the taste. You really like to have more and more with hot rice. Have a look.
Ingredients
500gmsPork
3 onionsOnion
½ teaspoonFennel seeds
2Green chili
3 teaspoonsGinger garlic paste
1Tomato
1 teaspoonRed chili powder
½ teaspoonPepper powder
½ teaspoonTurmeric powder
2 teaspoonsCoriander powder
1 teaspoonGaram masala powder
10 leavesCurry leaves
1 tablespoonOil
Saltto taste
½ cupCoriander leaves
Directions
Clean the pork pieces well with water
Take a mixing bowl and add pork pieces, chili powder, coriander powder, turmeric powder, salt
Mix them well and marinate for about 1 hour
Pressure cook the pork pieces till they become tender and keep them aside
Place a pan on flame and add oil to it
Add curry leaves and fennel seeds to it
Let them splutter for few seconds and add chopped onions, chilies to it
Fry the onions till they become golden brown in color
Add ginger garlic paste and mix it well with onions
Fry them till the raw smell of ginger garlic paste disappears
Add sliced tomatoes and cook till tomatoes become soft
Add red chili powder, turmeric powder, coriander powder, pepper powder, garam masala powder, salt and mix them well with the tomato mixture
Add marinated pork pieces and mix them well with the gravy
Fry them constantly for about 10 minutes till the oil from the pieces oozes out on top
Off the flame and serve it hot with rice as side dish along with Spicy Mango Rasam.
The curry looks semi gravy. If you want to have it in the form of gravy add water after frying the pork pieces for 10 minutes and cook it for 20 minutes.
-Neelima
This Recipe Rate :
(1) Reviews
Dina

Tried this recipe out yesterday and my family loved it. I reduced the green chillis as we eat less spicy food. But am sure it would have tasted better with more chilli. Thanks for a simple yet tasty recipe.