Easy Chicken Pakora Recipe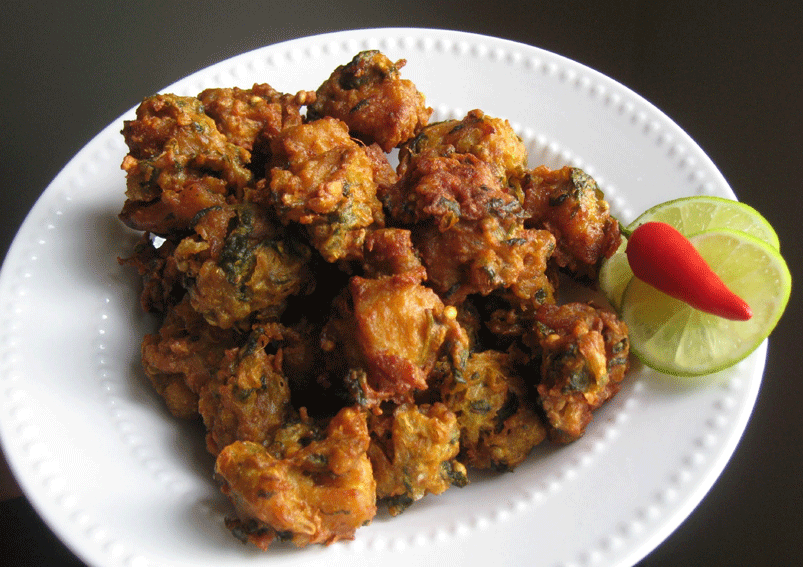 Everyone has their own variation of Spicy Chicken Pakora. Try this easy version of Crispy Pakora with Chicken and have it with your family members on a cool evening.
Ingredients
½ cupChicken strips
½ cupOnions thinly sliced
1 teaspoonGreen chilies
1 teaspoonGinger garlic paste
1 teaspoonLemon juice
½ teaspoonRed chili powder
¼ teaspoonGaram masala powder
pinchTurmeric powder
Saltto taste
10 leavesCurry leaves
5 teaspoonsChick pea flour
1 tablespoonCorn flour
for fryingOil
Directions
Wash the chicken pieces and drain the water.
Place the pieces in mixing bowl and add onions, curry leaves, ginger garlic paste, chopped green chilies, red chili powder, masala powder, salt, turmeric and lemon juice.
Mix them well and set them aside for 20 minutes.
Add chickpea flour and corn flour to it.
Mix them well. Add water if required and do not make it too watery.
Place a pan on flame and add oil for deep-frying the chicken pakoras.
Add the chicken pieces mixed in the batter one after the other and fry them till they become golden brown in color.
Place them on oil absorbent paper and transfer them to serving plate.
The tasty Chicken Pakoras also called as Chicken Pakodas are ready to serve. Serve it directly or you can also serve it with Green Chutney.
-Neelima
This Recipe Rate :
(0) Reviews