Easy Palak Paratha Recipe – Spinach Paratha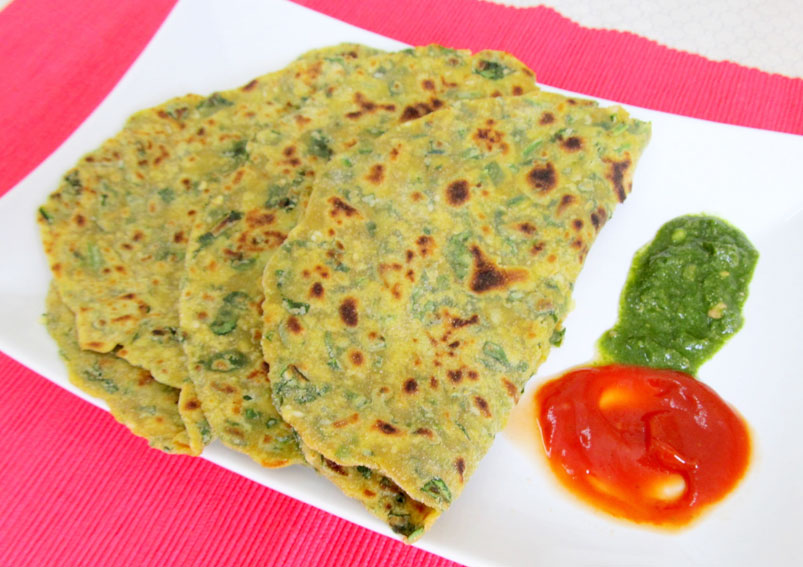 Spinach Paratha tastes delicious and is nutritious paratha that tastes excellent with fresh curd. This is the best dish for kids who do not prefer to have spinach.
Ingredients
2 cupsWheat flour
¾ cupChopped palak
½ teaspoonChopped ginger
3Garlic cloves
1Green chili
2 tablespoonsCoriander leaves
3 teaspoonsOil
1 teaspoonButter
Saltto taste
making doughWater for
Directions
Wash spinach and coriander leaves.
Chop spinach, coriander leaves, ginger, garlic and green chili.
Place them in blender and blend into fine paste. Do not add water to it while grinding.
Remove the paste in a mixing bowl and add flour to 1 ½ cups flour to it
Add oil and salt to it
Knead it to smooth dough. Add little water if required
Grease the dough surface with few drops of oil and cover it with a cloth for about half an hour
Divide the dough into equal parts and give each part a round ball shape
Convert it into thick pattie by placing it between your palms
Coat the pattie with dry wheat flour and roll them to round raw paratha of about 6 inch
Place roti pan on flame and cook paratha on it.
vHeat each side of paratha with ½ teaspoon of oil till it turns light golden brown color.
Remove it to serving plate and continue the same process with remaining dough.
Serve the paratha with Tasty Tomato Chutney and curd.
-Neelima
This Recipe Rate :
(0) Reviews