Palak Fried Rice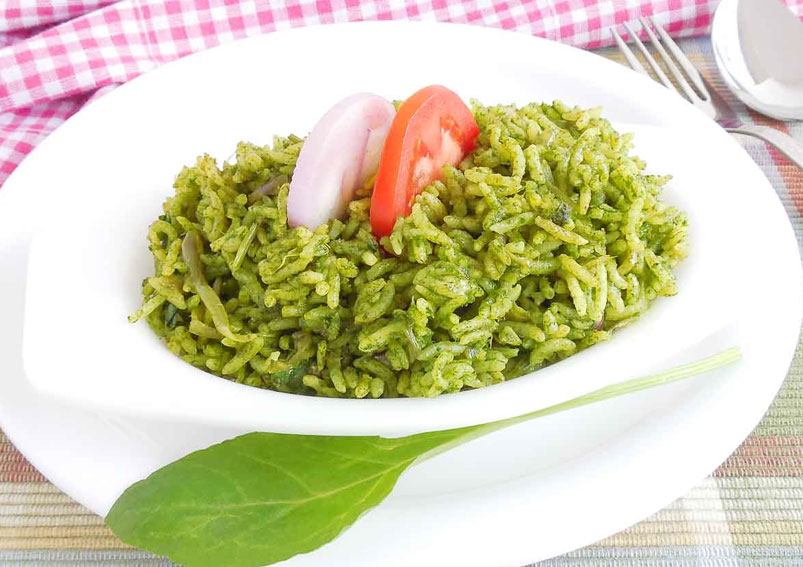 Interested to have a healthy diet, but don't like Palak. Don't worry, here's an interseting dish which is tasty and delicious. In this modern days, there is no time to have a healthy lunch. Palak Fried Rice is a healthy lunch, loaded with the essential nutrients which are beneficial in many ways.
Ingredients
1 bunch freshPalak/Spinach Chopped
2 cupslong grained basmati rice
Fewcurry leaves
1 inchpiece of ginger
6-8 podsof garlic
1 bigOnion finely chopped
2-3Tomatoes Chopped
1 teaspoongaram masala powder
2 tablespoonsOil
Saltto taste
For Seasoning Palak Rice you will Require:
1 tablespoonMustard Seeds
1 tablespoonRoasted Channa Dal
2-3green Chillies Finely Chopped
Directions
Wash the basmati rice and cook them in 4 cups of water by adding some salt. Drain and keep it aside.
Heat 1 tsp of oil in a frying pan and add the ingredients for seasoning.
After frying add the curry leaves, ginger and garlic.
Saute it until the raw flavor goes away.
By stirring, add the Palak, onions and tomatoes.
Mix all the spices and salt.
Cover the pan with the low flame until the Palak is cooked.
After it is cooked completely, add the Basmati rice and mix it well.
Yummy Palak Fried Rice is ready to serve, tastes better with Raitha.
-Sravanthi
This Recipe Rate :
(0) Reviews