Gajar Halwa (Carrot Halwa) Recipe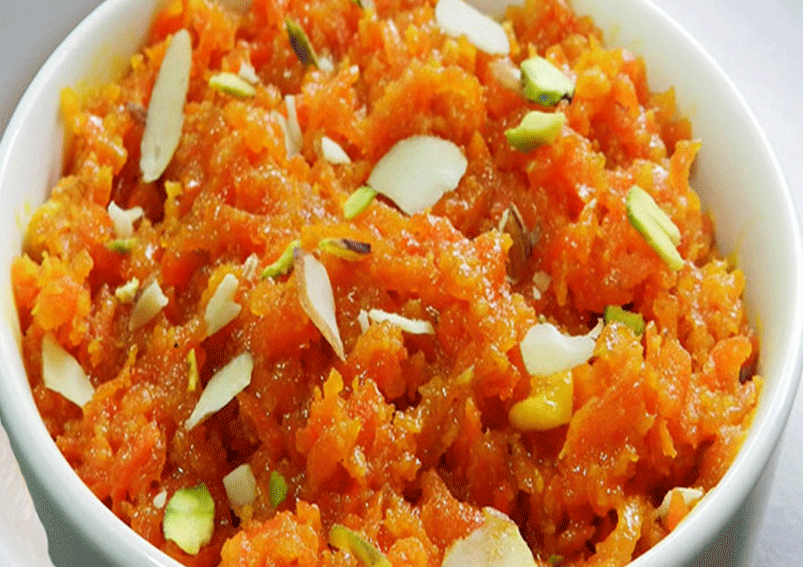 Indeed the name 'Gajar Halwa' is enough to mouth watering. It is a very popular Indian dessert made with red carrot and condensed milk or Khoya. Fresh red carrots are usually available in winter so, it is the best time to prepare this dessert. Carrot is very healthy for health so just enjoy the dessert with health effects.
Ingredients
4 cupsfull fat condensed milk
4 tablespoonsclarified butter
10-12 tablespoonssugar
20-25whole cashews
5-6green cardamom (powdered)
Few slangssaffron
Handfulraisin
Directions
First, rinse, peel and grate all the carrots.
Put a heave bottom pan on flame and combines milk and grated carrots.
Cook the carrots in milk on medium flame for a long time.
Add the ghee, cardamom powder and sugar to the mixture when the mink has reduced 75%.
Mix well and continue to simmer on low flame.
When all the milk dispersed, add cashew, raisin and saffron slangs.
Serve it hot as well as cold.
It is a winter comfort dish and people of all ages would like to have it at home. Children do not eat carrot as raw and in curry, so it is the best way to make them eat this healthy vegetable.
Also see: Bottle Gourd Halwa Recipe
-Nandini Chauhan
This Recipe Rate :
(1) Reviews