Pineapple and Ginger Pavlova - Christmas Special Recipe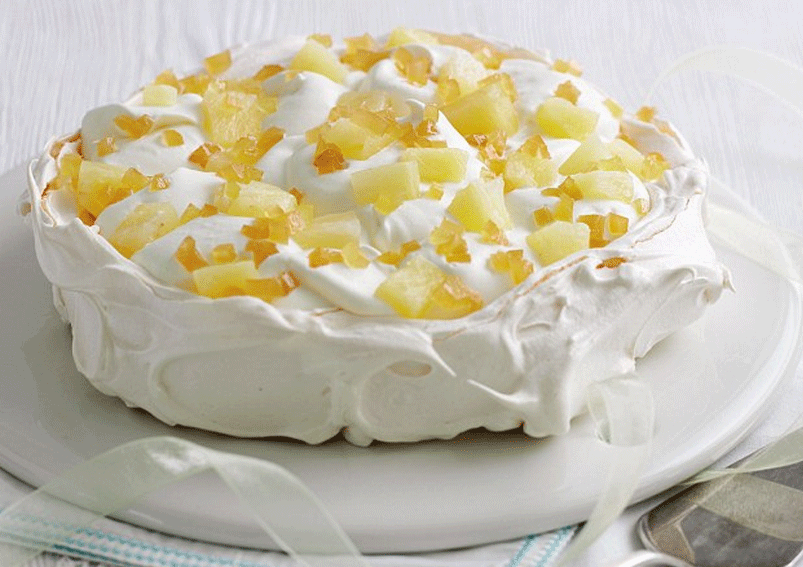 Pineapple and Ginger Pavlova is the best suitable dessert for your Christmas party. Pineapple and ginger give an amazing flavor together. Pavlova never fails to please. So, let's try this party dessert and indeed you are going to love it.
Ingredients
4 largeegg white
225 gramswhite caster sugar
1 teaspoonground ginger
1 teaspooncornflour
1 teaspoonwhite wine vinegar
½ large pineapple(peeled, cored and cut into 4-5 wedges)
3 tablespoonsginger syrup
6 ballsstem ginger in syrup (roughly chopped)
500 mldouble cream
1 tablespoonicing sugar, plus extra for dusting
Handfulmint leaves (peeled, cored and cut into 4-5 wedges)
Directions
First, heat the oven to 15OC/130C fan/ gas 2.
Take a large bowl and out the egg white in a bowl.
Now stir to stiff peaks with the help of an electric hand whisk.
Add sugar by 1 tablespoon at a time and continue to stir.
Put ginger, corn flour and vinegar and continue to stir until the mixture is thick and silky.
Take a baking parchment and draw a 23 cm circle on it.
Now turn it over and place on a large baking tray.
Put the mixture in the circle and bake it for an hour.
After that, leave it in the oven with the door shut, till then the Pavlova is completely cool.
Meanwhile, put a griddle pan on medium flame.
Now brush the pineapple wedges with the ginger syrup and griddle it for at least 2 minutes until char lines appear.
Put it aside, cut into chunks when it gets cold.
Now, make a chunky paste of ginger and 2 tablespoons syrup in food processor.
Now add, cream and icing sugar and whisk to soft peaks.
Its ready, top with the pineapple, drizzle with a little extra ginger syrup, scatter over the mint and dust with icing sugar.
You can make the Pavlova base up to 2 days before serving, but store in an airtight container, then topped with cream and pineapple just before serving.
See: Christmas Special Fruitcake Recipe
-Nandini Chauhan
This Recipe Rate :
(0) Reviews