Rice Pongal Recipe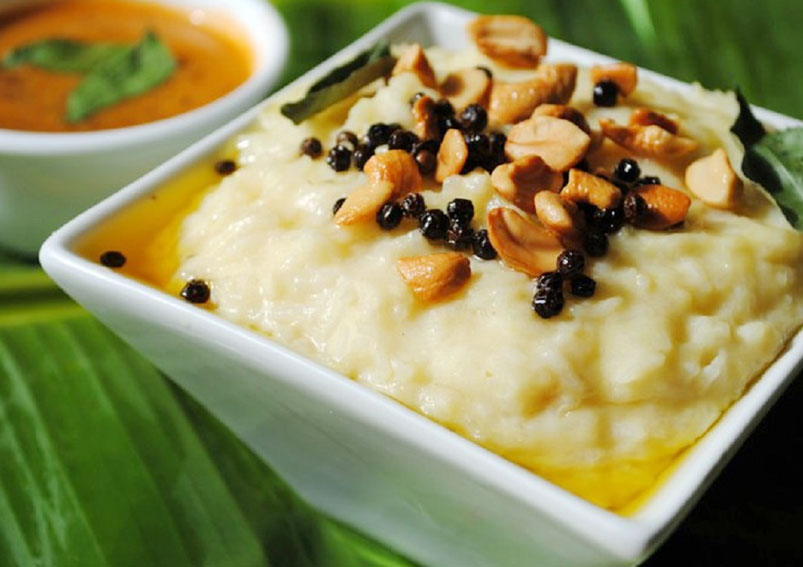 Rice Pongal is a Pongal festival dish and popular in south India. Usually, you can cook it in breakfast or dinner. The recipe is prepared with rice and pulses. It's so palatable as well as healthy dish.
Ingredients
1 cupshort grained rice
1/4 cup+ 2 tablespoonsGreen gram/Moong dal (split)
1 teaspoonto taste
1 teaspoonWhole peppercorns
1 teaspooncumin seeds
1" inchGinger (peeled and sliced thinly)
A pinchof asafetida (hing)
Few sprigsof curry leaves
Few unbrokencashews
Directions
Wash and clean rice and Moong dal well.
Mix them both and add 5 cups of water.
Put them in a pressure cooker and cook for 10-15min (3-4 whistles).
In between, heat a little ghee in a nonstick pan.
Temper first the ginger slices
Now, add peppercorns and cumin seeds.
At last, put curry leaves and asafetida.
Continue stir it for 2-3 seconds.
Then, remove with a slotted spoon.
In the same pan, add some cashews and roast them till brownish color
Now add salt and the tempered spice mixture and mix well.
Serve hot.
Rice Pongal recipe is a very traditional breakfast or tiffin dish in South India. It is a very easy and comfort food.
-Nandini Chauhan
This Recipe Rate :
(0) Reviews