Skillet Ham Hash Recipe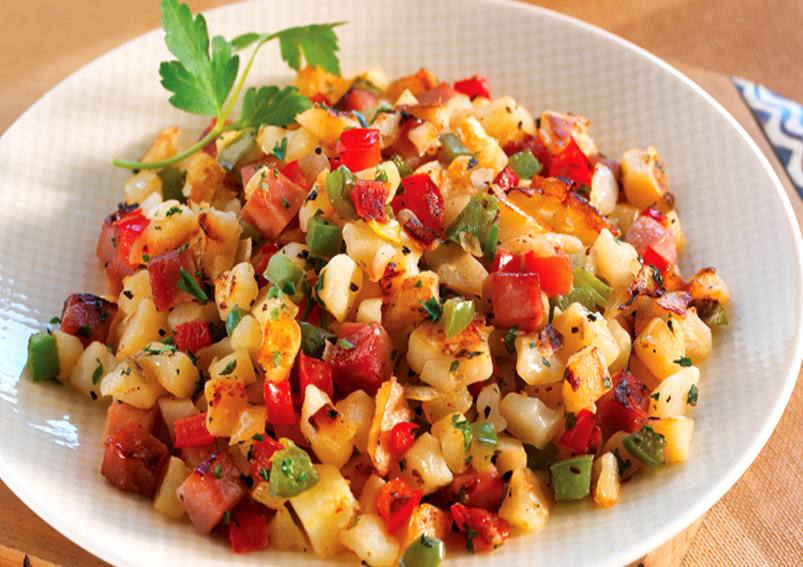 Are you looking for an easy heart healthy breakfast recipe? Skillet Ham Hash is an easy breakfast recipe that can be prepared for a few members or a crowd. This recipe has very high nutritional value.
Ingredients
2 teaspoonsOlive oil
1Large green bell pepper (diced)
1red bell pepper (diced)
1Medium onion, diced
1/2 cupdiced lower-sodium
4 ouncesLow-fat ham
3 cupsfrozen fat-free southern-style diced hash brown potatoes, thawed
1/2 teaspoonsalt-free Cajun or Creole seasoning blend
2 tablespoonsfresh parsley (chopped)
1/4 teaspoonsalt
1/4 teaspoonpepper
Directions
Take a large nonstick pan and put on flame.
Heat the oil on medium flame.
Now put the bell peppers and onion, cook for 4-5 minutes.
Stir in the ham. Cook for 1 to 2 minutes, or until heated through, stirring occasionally.
Stir in the hash browns and seasoning blend. Cook without stirring for 4 minutes.
Whisk (the golden-brown pieces will be redistributed). Cook without stirring for 4 minutes, until the bottom is golden brown and the mixture is heated through.
Stir in the parsley, salt, and pepper.
Skillet Ham Hash is a pork recipe. Pork is a powerhouse of nutrition's and an excellent source of protein.
-Nandini Chauhan
This Recipe Rate :
(0) Reviews