Andhra special- Gutti vankaya kura Recipe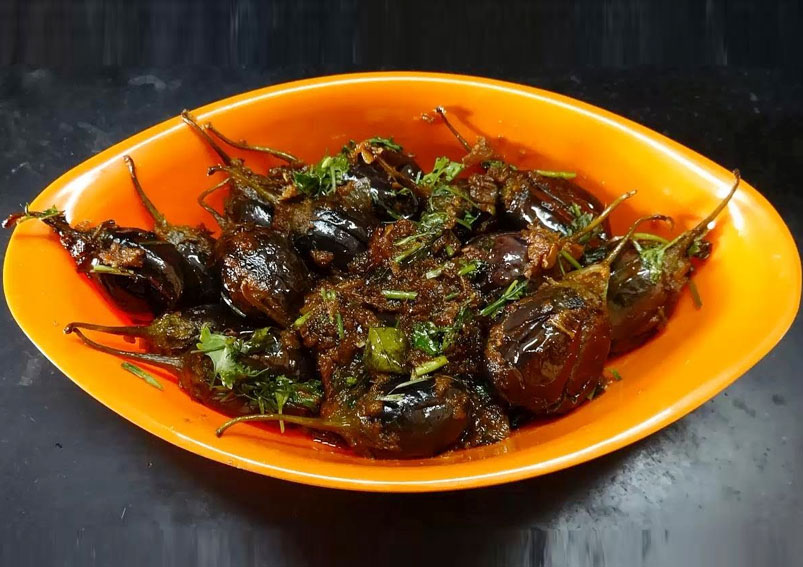 Gutti vankaya kura is basically a famous Andhra Pradesh dish. This is the Andhra style stuffed brinjal curry. This dish is a dry dish used as a side food for any main course and it is unique dish, which can be cooked on tawa and oven as well.
Ingredients
10Brinjals (small)
1 TablespoonOil
4Red chili (dried)
1 TablespoonChana Dal
2 TablespoonsUrad Dal
1 TablespoonCoriander seeds
1 TablespoonCumin seeds
A Pinch offennel seeds
4 Springstamarind
5Garlic cloves
1Curry Spring
A pinch ofasfoetida (hing)
A pinch ofturmeric powder
Saltto taste
A littleof water
Directions
First, cut the brinjals in the centre and put the salt water.
Now, put a pan on flame and heat the oil.
Fry the brinjals for 30 seconds and remove from the pan.
Now heat a little oil in a pan and put red chilies, chana dal, urad dal, coriander seeds, cumin seeds, fennel seeds, tamarind, garlic cloves, asfoetida, turmeric powder and salt.
Fry all ingredients till it turns brown in colour.
After that, grind the fried ingredients and make it into fine powder.
Now, take the powder and add a little water in it.
Fill this stuff in the all brinjals and keep it aside.
Now, put a heavy bottom pan on flame and heat oil.
Spread stuffed brinjals and close it with a lid.
Cook for 20 minutes.
Make sure the flame is slow.
Add some salt if needed.
Your dish is ready, garnish with coriander leaves and serve hot.
Be ensure that the flame is low while cooking brinjals other it will burn from outside and half cooked from inside.
Try- Brinjal Fry
-Nandini Chauhan
This Recipe Rate :
(0) Reviews