Kids Friendly-Thekua Recipe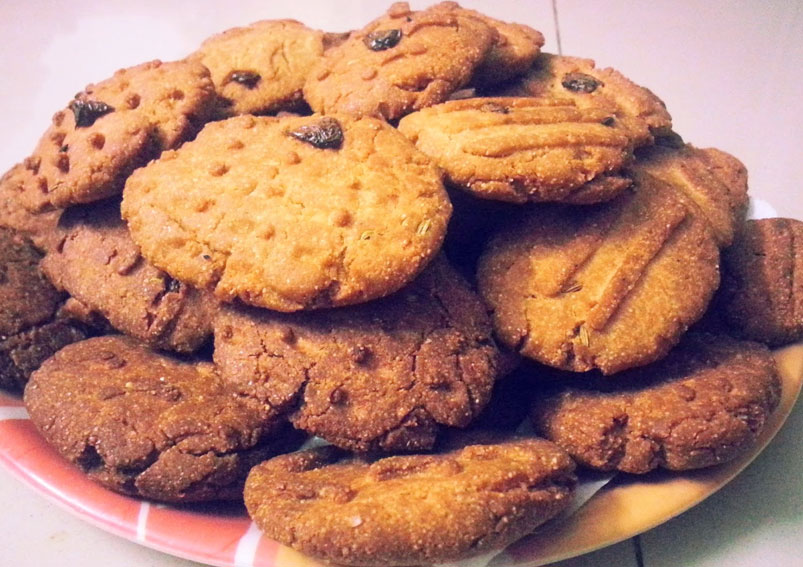 Thekua is the rural homemade cookie of north India. It is famous in Bihar and Jharkhand states of the country. The dish is made up with whole-wheat flour, sugar and ghee. It is so crispy and Children loved to have it. It is healthy and homemade so you can prefer thekua as cookie in place of packed biscuits.
Ingredients
1/2 cupOil
1/2 teaspoonCardamom powder
1/2 cupCoconut (grated)
1 cupHot water
400 gramsJaggery (grated) or sugar
500 gramsWhole wheat flour
2 cupGhee or oil (for deep frying)
Directions
Combine jaggery or sugar and water in a pan.
Put the pan on flame, heat and dissolve the sugar or jaggery.
When it dissolved, switch off the flame and put aside to get cool.
Now, take wheat flour in a large bowl.
Put coconut and cardamom powder and mix well.
Now, add oil and mix gently with hands.
Put sugar or jaggery water and kneed into a stiff dough.
Divide in into 5 equal portions.
Shape it round and long, according to your choice.
Ensure the thickness is not more than an inch.
Now heat ghee or oil in a deep bottom pan.
Put few thekua at a time and cook on low flame.
Deep fry, till it turns into brown colour.
Drain and let it get cold.
Keep in an airtight container.
You can store it for several days. You can take it for long journeys and as short meals. It is a rich source of carbohydrates and sugar.
-Nandini Chauhan
This Recipe Rate :
(0) Reviews