How to Cook Jeera Pulao Recipe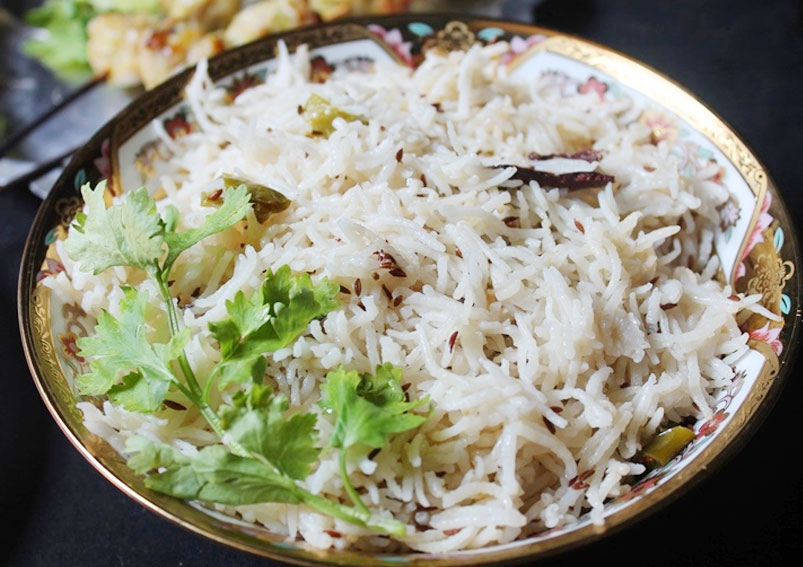 Are you fond of rice? Here we have something special for you. Jeera Pulao (rice) is every day rice recipe in north India. Also, it is a vegetarian recipe, rice lovers are going to love this recipe. Let us begin.
Ingredients
1 cupLong grain rice (Basmati)
2 cupsWater
½ teaspooncumin seeds (jeera)
1 tablespoonGhee or Oil
Saltto taste
2Bay leaves
3-4Cloves
FewWhole black paper
1cardamom (black)
Directions
Take the rice in a big bowl, wash and drain 2-3 times then, soak in water for 15-10 minutes.
Take a heavy bottom pan and heat the oil.
Add cumin seeds, cardamom, bay leaves, black pepper and cloves.
Now add rice and salt.
Mix well on medium flame.
Now, add water in it.
When it starts boiling, low down the flame.
Close the pan with lid partially.
Cook it for a few minutes.
When whole appears on the surface, the rice is done.
Garnish with coriander leaves and serve hot.
You can also use a pressure cooker. If you want some sweetness, add some raisin and cashew nut while cooking. You can have jeera Pulao with Raita as well as with dal and vegetable.
-Nandini Chauhan
This Recipe Rate :
(0) Reviews