Dalia (Broken wheat) Recipe - High Fiber Food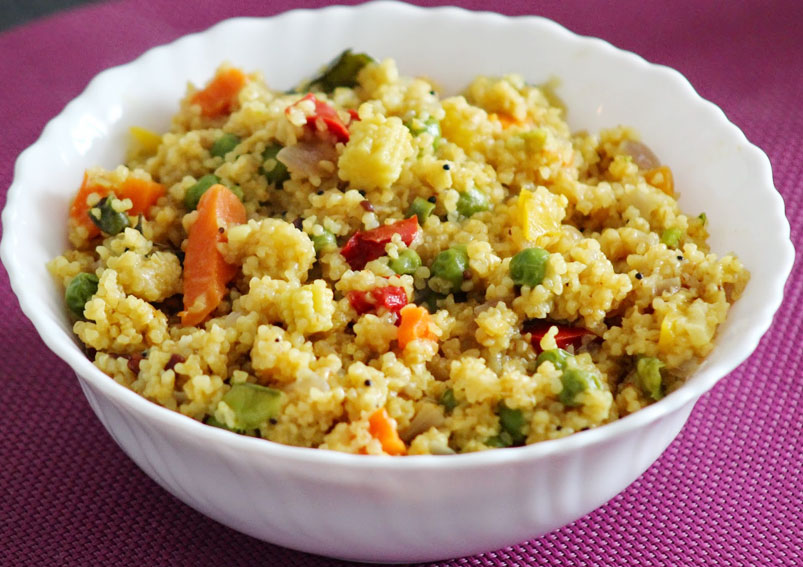 There are countless benefits of eating Dalia. It is a high fiber food, which release glucose in the body and manage energy resource more effectively. The recipe is very easy to prepare at home and ideal health dish for all ages. Find how to cook Dalia in step-by-step method.
Ingredients
1 cupDaliya
2 cupsWater
½ teaspoonCumin seeds
1 pinch ofasafetida
½ teaspoonTurmeric powder
Saltto taste
1 table spoon + 1 teaspoonGhee or oil
Directions
Take a heavy bottom pan and heat ghee.
Put Daliya and fry it for 5-10 minutes.
Now take a pressure cooker and heat ghee.
Add cumin seeds and asafetida.
Now add, fried Dalia and turmeric powder and mix well.
Add water and salt and cook for 1-2 whistles.
It is ready to serve.
In place of pressure cooker, you can use non-stick pan, but ensure that the water quantity is fine because open utensil need more water to cook food. You can also add fried vegetables according to your taste. It is a very healthy food.
-Nandini Chauhan
This Recipe Rate :
(0) Reviews