Bread Burji Recipe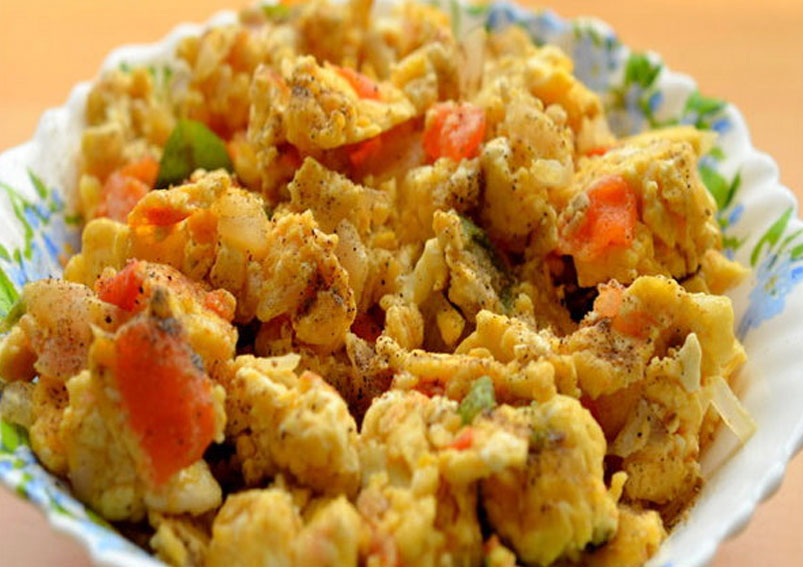 Bread Bhurji is a simple combination of white bread slices and onion paste with some spices. The Bread Bhurji recipe is an answer to a good and tasty breakfast food that can be served at any time in just few minutes. Take a quick look for an easy making Bread Burji recipe with low calories.
Ingredients
1 packWhite bread slices
2 tbspLow fat curd
2Green chillies sliced
1 inchGinger chopped
2-3 clovesGarlic minced
1/2 tbspcurry leaves
1 cupMustard seeds
1/2 tsponion thinly chopped
1/2 tspRed chilli powder
1/2 tspTurmeric powder
1/2 tspCumin powder
1/4 tspChaat masala powder
2 tspButter
to be choppedFresh coriander leaves
Saltaccording to taste
Directions
Firstly, Slightly cut off the edges of the bread and cut them into medium size.
Add butter in a non-stick pan and heat it.
Add mustard seeds and curry leaves in that pan.
Cook the seeds until it gets brown.
In that same pan, add ginger, garlic and green chilies and fry them.
Cook for a few seconds. Add finely chopped onion and the medium size of bread.
Add some curd and stir it and then add 1/2 cup of water.
Add spices and salt as per taste and cook them in a medium heat for 5 minutes.
Stir on low heat until the bhurji turns into light brown in color, then garnish with coriander leaves.
Take out the pan from stove and make it cool to room temperature for a few minutes.
Finally, it is ready to serve and for more taste you can add sauce while eating.
Bread Burji Recipe is a good snack item to eat at evening times and even you can have it for the breakfast.
Check for Low calories food recipes
- Mayuka
This Recipe Rate :
(0) Reviews