Vegetable Sandwich Recipe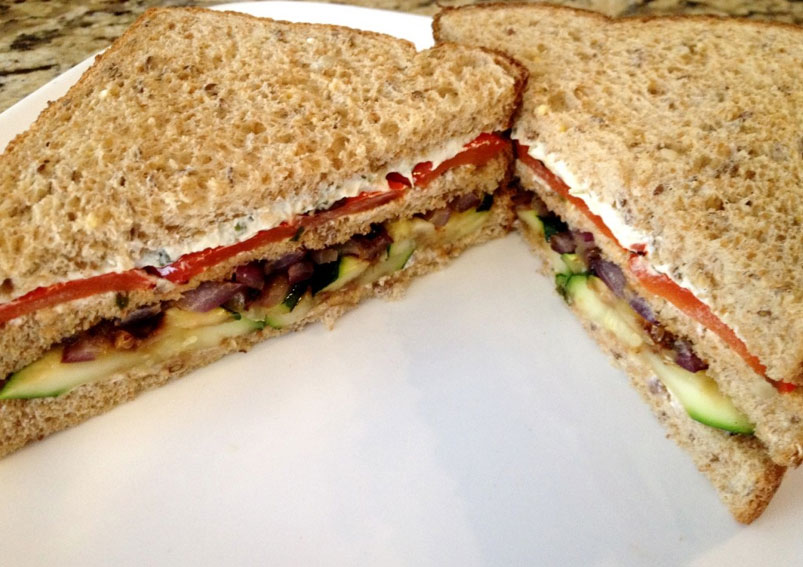 Do not have the mood to prepare food!! So, here is a simple vegetable sandwich, which can take a few minutes. Sandwiches are very convenient to pack it for school boxes and offices. Now have a closer look to the very simple vegetable multicolored sandwich in step-by-step process of a Vegetable Sandwich Recipe.
Ingredients
4 slicesSandwich Bread
2 tbspGrated Carrot
2 tbspGrated Beetroot
2 tbsp Finely chopped Capsicum
as requiredButter
1Cheese Slice
as requiredSalt
as requiredPepper
Directions
Take a pan and heat a little butter in it.
Add grated carrots and saute for a few seconds.
Add salt and pepper according to the taste and Keep it aside.
Heat some more butter in the same pan, add grated Beetroots and saute.
After that, add grated Beetroots and capsicums separately and saute for few minutes till it gets tender.
Add needed pepper and salt to it. Keep aside.
Cut the brown edges of the bread and apply butter on one side of all the 4 bread slices.
Take a bread slice with the buttered side facing up, place 2-3 tsp of grated Beetroot and close it with the 2nd slice with the buttered side facing up.
On the top of the butter, place 2-3 spoons of grated carrots.
Top it with the 3rd slice of bread with the butter side facing up.
On the top of it, place 2 spoons of sauteed capsicum and a layer of cheese slices on it, if you want.
Then close it with the 4th slice with the buttered side facing down.
Cut it diagonally, if you want and you can enjoy it with tomato ketchup or sauce.
The vegetables are rich in vitamins and more good for health, those who doesn't want to eat vegetables in curries, they can have it in sandwiches indirectly with the flavor of toasted bread with butter.
Check More for Healthy Eating Recipes
- Mayuka
This Recipe Rate :
(0) Reviews